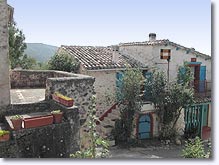 St Julien d'Asse is situated above the river Asse flowing over its pebble bed, clinging to the hillside, and benefits from an agreable situation and view over the valley.
Near the hamlet, a number of Belgians and Germans have apparently fallen under its spell, and are renovating some old houses.
Its understandable, because this village has a unique atmosphere: a winding side street with steps, a covered passageway, an old wash house, superb old stone houses topped by Roman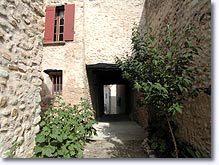 tiles, shady gardens where succulents grow along with climbing rose bushes, some beautiful 19th century doors, olive trees and tufts of lavander, a little air and some birdsong, ...
Who wouldn't want to settle in St Julien d'Asse, buy a run-down old barn and transform it into a little gem with an authentic touch, keeping to the local architectural style, with beautiful stones and lavender coloured window shutters ?