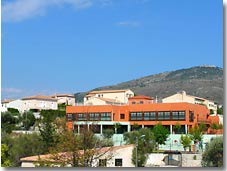 Situated in the hills above Nice, Colomars is a small recently built residential village, surrounded by beautiful Mediterranean vegetation consisting of pines and olive trees, vines, carnations and fragrant broom.

It is made up of several hamlets - les Cabanes, la Madone, la Sirole in the hills, la Manda on the Var plain - Colomars spreads out over a ridge overlooking the Var plain: a superb unobstructed view and pure air are yours for the taking.

Colomars will delight peaceful nature lovers, people who like unpolluted fresh air and relaxation in the countryside ... Moreover the village has continued to grow over the last few years, chosen by families working in Nice for the most part, who want to raise their children far from the stress of the city.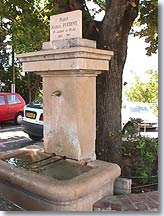 The village has little to attract tourists - although there are some tasteful pastel-coloured housefronts, smart modern buildings, flower-filled balconies as if for a flower competition and a fine fountain shaded by an ancient tree - and that is so much the better for the happy residents of this tranquil bucolic haven of peace 15 km from the sea and the beaches.

Its attractive features include its vales, where you will find exceptional geological and botanical reserves, in a setting of waterfalls and aqueducts originally built to supply the old olive oil mills.

Fort Casal is an old fortified site built in 1888. It has now become a vast leisure area where various events and festivities take place. It has a breath-taking view of the Alpine foothills and the Mediterranean.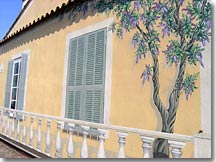 Colomars is well-known as an olive-growing area. The famous "cailletiers" from the Nice area produce an olive variety renowned for its lemon and aniseed flavour, and giving a golden oil that is very much sought after by gourmets.

Colomars olive oil, olive paste and tapenade have won many medals and are proud to have their own A.O.C. label: to be enjoyed to the full!