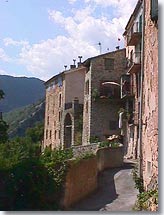 After following a very narrow and occasionally breathtaking winding road, stop first of all on the bridge suspended over an impressive drop.

From there you have an uninterrupted view of the Roudoule Gorge ... and of a much older stone bridge, because ... it was built by the Romans!
Then when you come round the next bend it will be time to discover the marvellous village of La Croix sur Roudoule, perched on a rocky spur.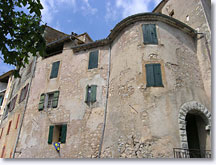 The village was a stronghold of the Templars and then of the order of the Hospitallers of Saint John of Jerusalem.
From its medieval past a few sections of the defensive walls have survived, as well as a fortified gateway. It enjoys an invigorating mountain climate (Tête de Mélèze, 1733 m) and is set in a verdant yet Mediterranean natural environment.
Here you can take a walk back in time, as you stroll over the uneven cobblestones: high houses built from yellow or ivory stone, brown and lavender blue shutters, covered passageways with wooden beams in their ceilings, smart gardens, little fountains ... you'll have no problem imagining the scene and the way of life many centuries ago ... Here at La Croix sur Roudoule, hardly anything has changed, and this unique atmosphere makes the village truly enchanting .
Visit the village at Whitsun if you can, to taste the famous Holy Ghost soup with the local inhabitants. It is made from rice, olive oil and dry beans ... and is followed by a distribution of blessed bread. While you're there, you must try the local speciality too: goat's cheese .
Absolute peace and quiet, exceptionally pure air, and an untouched natural environment: it's the ideal place to recharge your batteries!
---