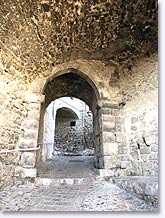 Levens is a medieval village clinging to a rocky outcrop overlooking the Var and Vésubie river valleys.
The streets and houses wind round the small hill as if they were looking to encircle it.
Standing proudly at the top of the hill you'll see the bell tower of St Anthonin's church, with magnificent centuries-old lebanese cedar trees in the background.
In the heart of the village you'll find elements of all the local architectural traditions : vaulted passageways, narrow streets, ancient gateways, tall stone built houses.
Take time out to visit some of the caves in the locality, or for the less brave, visit some of the local mills, less mysterious but just as interesting.