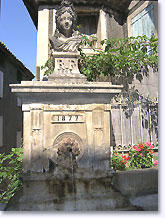 In the Middle Ages Mollans-sur-Ouvèze served as the "border" between the Comtat Venaissin and the Dauphiné region, i.e. the rich plain and the dry mountains. It was a gateway that had to be guarded to guarantee peace within the Baronnies - and so it came to be known as the "Baronnies Gate".

At that time this fortified village had two castles, three towers and a drawbridge, all protected by a ring of defensive walls.
Perched on their craggy rocks, the two feudal castles (one of which has been restored) still overlook the village.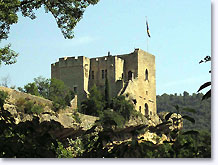 Today Mollans is a quiet market town in the plain of vineyards and fruit orchards on the banks of the Ouvèze river, where olive trees, lime trees and lavender are still cultivated by the local farmers.
It might not be obvious, but Mollans-sur-Ouvèze has many charming features you can discover on foot, starting for example in the lower village, where you should make your way to the bridge built in medieval times, with its single arch.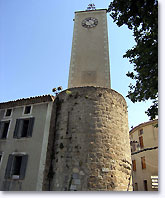 In olden times three round towers guarded this bridge, but only one is left today. It was used as the foundation for a belfrey in the early 18th century. It is known as the Clock tower and towers over a tiny round chapel built overhanging the bed of the Ouvèze.
Cross the bridge and on the other side of the river you'll find a marvellous fountain, called the Dolphin's Fountain, and its roofed wash-house with seven arcades. The whole ensemble is listed, quite rightly.