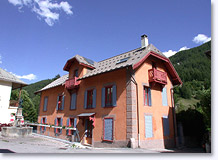 Under a virtually permanent blue sky, Aiguilles offers the visitor a wonderful vista of pretty brightly coloured red and blue houses, topped by shingle roofs, with beautiful fountains enthroning statues, and sundials. If you look carefully you'll notice the architecture is often rather unusual for a mountain village, reflecting South American influences. As in Barcelonnette (see the section on this town), many locals emigrated to South America following the terrible fire of 1829, and returned home many years later, much richer, to build these houses, as bourgeois as they are peculiar.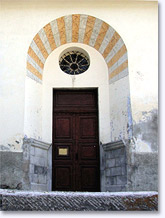 A good example of this architecture is Château de l'Auche, built at the end of the 19th century by the Challe family on their return from South America, which today houses the village school. Other curioisites: Grand Hôtel (1910) and Maison Eiffel, both entirely built from iron and designed by an engineer called Duclos, who worked for Gustave Eiffel's firm.
Aiguilles is the geographical and commercial heart of the
Queyras region
. In winter it is a family-oriented village ski resort, perfect for people who are attracted by authenticity. The resort's cross-country ski routes take the forest tracks, passing through magnificent larch forests, home to roe deer, chamois, mouflons and ibexes.