This is a major strategic crossroads, at the convergence of the Guil and the Durance, and where the
Vallée du Queyras
and Col de Vars open out. This was where Vauban decided to build a fortified town, on this imposing plateau, at that time uninhabited, swept by the winds, as inaccessible and inhospitable as you could wish. Construction of the Fort of Mont-Dauphin began in 1693, and it was subsequently altered and improved throughout the 18th and 19th centuries. It is a listed Historical Monument, and to this day remains an impregnable fortress perched on its rock, far above the plain.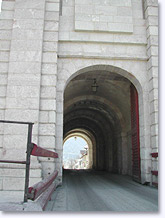 The Fort was built to accommodate 2,000 soliders and comprised fortification bastions on the North-East side, the only part which was easily accessible to the enemy, military buildings (barracks, arsenal, powder magazine) and a civilian village, made up of tradesmen's houses built along wide streets.
The entire complex has remained in perfect condition, and the French army only vacated the premises officially in ... 1980. When you park your car on the car park, old signs indicating "Mail coach" and "King's Fort" will get you into the atmosphere of the place.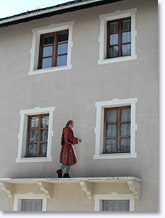 You'll have the impression you're travelling back in time as you walk across the enormous defensive walls surrounded with ditches and incorporating sentry bastions, and then as you look around this gigantic fortress, where historical monuments rub shoulers with everything a modern town needs; an inn, a mairie, hôtels, etc.
There are plenty of unusual features, such as for example a stone with a hole in it which was used to measure a "half-émine" and "émine" of barley, oats, wheat and rye. You'll learn that an "émine" was equivalent to 22.7 litres !
You'll find out all about Mont-Dauphin's history when you visit the permanent exhibition, and you'll be taken back to the past as you watch demonstrations of horse-riding stunts and canon being fired, or one of the costumed re-enactments staged by the appropriately named association "Passé, Présent" (past, present) !