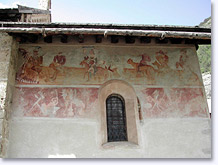 Silver mines at L'Argentière la Bessée, churches with painted façades at Les Vigneaux or Vallouise, a mill at Freissinières and a large number of sundials, the Vallouise valley has plenty of assets to attract visitors. But this valley is of course famous above all for its natural splendour: torrents, waterfalls, larch forests, glaciers, rocky peaks, eternal snows … mountains in all their majesty.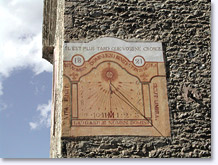 Sundials are an old tradition in this particularly sunny region, conveying information that may even claim to be philosophical in nature, through the intermediary of the decorative painting on them. The Vallouise Valley has thirteen of them, on church and chapel walls. You can admire two of the oldest sundials (dating from 1718) on the church of Sainte-Marie-Madeleine des Prés at Puy Saint-Vincent.
The Ribes mill built in 1620 at Freissinières, made flour and walnut oil. It was a typical mountain mill, and was still functioning in 1945. Since then it has become an
eco-museum not to be missed.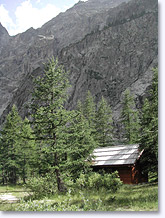 One of the marvels of nature to be found in the valley is the siphon of the Durance Gorge, Ailefroide, a world-renowned spot for mountaineering ever since the early 19th century, and the Pré de Mme Carle, a majestic cirque of mountains in an environment of rocks and crags, the starting point for hikes to the most mythical peaks such as Barre des Écrins (4102 metres)