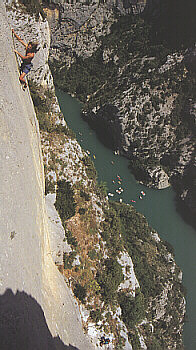 To be a journalist, whether writer or photographer, is a fantastic profession where you have to go discover new places and meet different people. It's also a job where you have to make choices. With the climb at Aiguines there was enough material to publish a special edition, the subject was so rich in history, human relations, images and sensations! Therefore we'd like to tell you in just a tew words what you won't see on the pictures but what you might read in these lines: it was kindness and a warm welcome that we receiveced in Aiguines.
It is harder and harder today to meet up with true hospitality and spontaneity.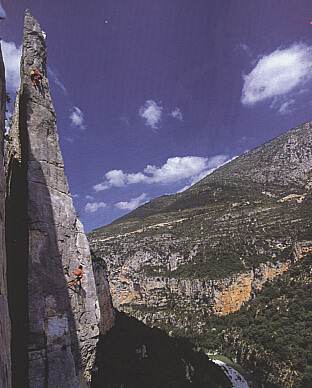 On this side of the canyon there exists a certain harmony, far from sterile conflicts over who owns the cliffs, from holy inquisitions all under the name of ethics, from gut fights over who gets the glory ar the dollars. No, Aiguines is not a paradise an earth. It's just one ot those places where it's nice to climb, and with people that smile at you and cantinue to do so when your back is turned.
There, so now it's up to you to go see for yourselt, and a last thanks to all who have helped us, especially Phillippe Sugada, one ot those real people, dedicated without reserve.


From Rock and Wall n°8 de Rock and Wall (September 1996).
Thanks again for the pictures.