---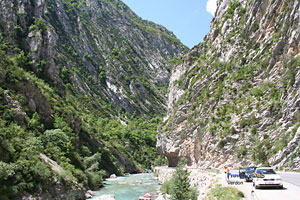 This immense and magnificent canyon straddles the departments of Var and the Alpes de Hautes Provence.
The gigantic cliffs of calcareous rock are the result of the erosion of the Verdon river.

In the midst of a nature reserve, rich in flora and fauna, the scenery here is astonishing. Never really discovered until the beginning of the century, the Verdon Gorges have since then fascinated innumerable visitors, There is no doubt that the sight is imposing!

The custodial villages nestled at the foot of the fault have maintained their old fashioned Provençal appeal. Here you will be warmly welcomed, and thanks to the fabulous natural resources of the area, countless activites are available :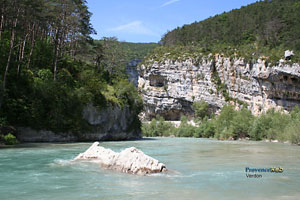 - White water sports: rafting, canyoning, kayaking....
- Water sports: sailing, water skiing, fishing.
- Aerial sports: paragliding, free flight, gliding....
- Also possible are the following :
climbing, hiking, horseback riding, mountain biking
The regional park of Verdon (Parc Naturel Régional du Verdon) has been officially set up since March 1997.

It includes 43 towns of the two departments
and spreads out over nearly 178,000 ha.
---