Verdon
Discover the superb Verdon region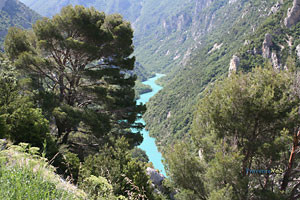 The deep cliff of the Gorges du Verdon is unique in Europe and is one of the greatest tourist attractions in Provence. Provenceweb invites you to discover this area of spectacular natural beauty and hopes to help you plan your vacation in the Verdon country.
In order to be practical, we have chosen the villages that are located on the banks of the Verdon and any others that are under an hours' drive from the river.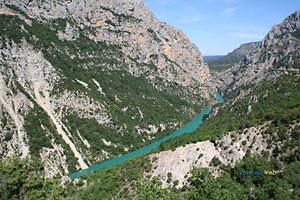 The lakes and their surrounding villages have been described both together and seperately. (click on maps).
At each of these points there is information on accommodations, available activities and useful addresses.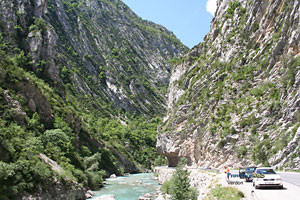 The gigantic cliffs of calcareous rock are the result of the erosion of the Verdon river. In the midst of a nature reserve, rich in flora and fauna, the scenery here is astonishing. Never really discovered until the beginning of the century, the Verdon Gorges have since then fascinated innumerable visitors, There is no doubt that the sight is imposing!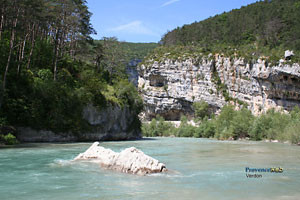 The custodial villages nestled at the foot of the fault have maintained their old fashioned Provençal appeal. Here you will be warmly
welcomed, and thanks to the fabulous natural resources of the area, countless activites are available:
- White water sports: rafting, canyoning, kayaking...
- Water sports: sailing, water skiing, fishing.
- Aerial sports: paragliding, free flight, gliding...
- Also possible are the following : climbing, hiking, horseback riding, mountain biking...

Here are some good guides we recommend for these activities in the Verdon:
The Verdon Regional Nature Park was created in March 1997. It now encompasses 43 communes in the two départements and covers almost 178,000 hectares.

Find accommodation in the Verdon
Among the multitude of accommodation on offer in the Verdon, here are a few favourites not to be missed. We've sorted them by category.