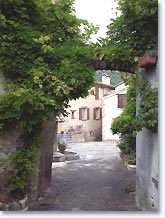 Curnier stands on a low mound, in the breeze, huddling at the foot of wooded hills, surrounded by vineyards and lavender fields.
Although in the distant past it was a fiefdom of the Mévouillon family, and then of the Princes of Orange in the 14th century, there are few remains of this glorious past, just some ruined castle walls.
Today the village, which is still fully agricultural, exudes perfect tranquility: around a beautiful church with a square stone belltower cluster some discreet houses with soft green and blue shutters, often built from a strong grey-pink stone, and covered with vines or climbing rose bushes.
In the shade of the lime trees, near to an old gurgling fountain, dogs are asleep and the local elders are seated. They'll greet you as you go past ... with the sing-song accent of the Midi !