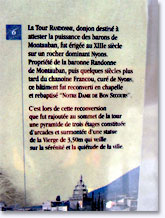 But you will be rewarded if you penetrate further into the historic centre via the Saint Jacques gate - the only gate left intact in Nyons medieval defensive walls. First of all you will discover "Place des Arcades" dating back to 1300. Today it is a most pleasant little square where you can enjoy a quiet drink, while admiring some superb doors, including the door of number 17, which belonged to the King's house.
As you carry on along the main street, lined with grey houses brightened up by lavender blue shutters and climbing vines, charming shops and little restaurants, you will come across Saint Vincent church (17th century).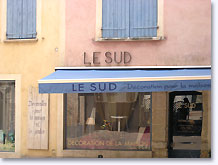 Then you will reach the famous bridge, built in a pure Romanesque style between 1341 and 1409 with a span of 43 metres, still stretching its single ogival arch more than 18 metres above the Eygues.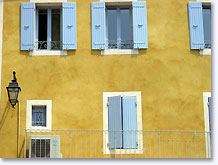 As you retrace your steps, don't forget to lose yourself in the quarter of Les Forts, to admire the former feudal castle, now privately owned and restored, vaulted covered passageways and a few stretches of medieval walls. This stroll will take you back into the past, and to be more precise it will also take you to the Randonne Tower.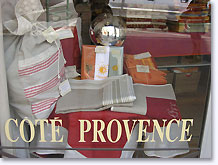 To reach it you must walk along a cobbled alleyway lined with beautiful low stone walls, called "Calvary path" and make the effort to climb up a few steps, but you won't be disappointed.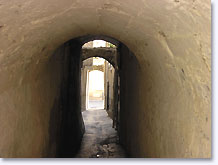 The Randonne Tower is an astonishing chapel boasting an ornamental belltower with apertures (a three-storey pyramid of arcades), surmounted by a huge statue of the Virgin Mary 3.5 metres high, overlooking the town and considered a local curiosity.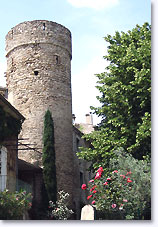 The tower was erected around 1280 by the Baronness of Montauban, and at the time was used as both a keep and a military prison for the castle. In the 19th century it was converted into a chapel and renamed "Notre-Dame de Bon-Secours". Through the grille you can still admire a coloured tabernacle and beautiful altar piece.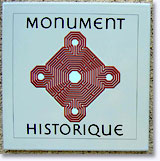 Don't forget to make the most of the marvellous view over the rooftops and the river, making use of the green bench carefully positioned in the shade.
Then it will be time to go back down the steps and alleyways with their uneven cobblestones, cut out of this magnificent yellow stone, before returning to the cafés and restaurants in the more recent part of town.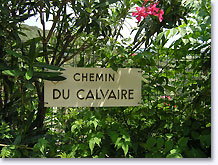 Before leaving Nyons, you should visit the Jardin des Arômes aromatic garden and its 200 species of plants – olive trees, rosemary, thyme, phoenician juniper, prickly juniper, cypress, viburnum, pines, cedar, chestnut, Judas tree, Chrysanthemum catananche … just to mention a few.
Also don't forget to buy a bottle of olive oil from one of the mill shops in Nyons, a souvenir that'll leave a wonderful taste in the mouth !