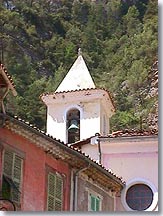 Situated in the Gorges du Cians, in the Roudoule valley, Touët is a unique medieval village which will not fail to surprise you : literally stuck to a vertical cliff, very tall houses, tightly packed together and just in balance remind one strangely of the architecture of Tibetan villages.
Each house has a large attic open to the elements which in times gone by was used for drying figs.
The narrow sloping streets, and stepped lanes are full of charm and character.
You're sure to notice small architectural details, or appreciate the harmony of colours between the stones and tiles from the balconies in the streets which offer superb panoramic views over the village rooftops and the Var valley.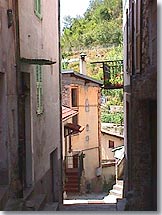 Touët merits the detour and you'll really enjoy your visit!
If it's raining visit the Town Hall gallery which hosts an impressive collection of all the Presidents of the French Republic
In any case don't make the mistake of leaving Touët without tasting the local home made specialities : traditional bread, cheese and charcuterie, accompanied of course with a small glass of good red wine !
---