Departement of Var -

Pop.: 5.515h

Near to the N7, 10 km from Draguignan and 25 Km from Fréjus.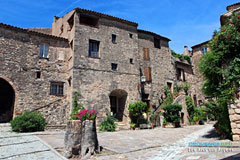 Named Archos in 1010 (from the word arc), this town in Provence became Castrum de Arcubus (Château des Arcs). From the XIIth to XVIIth centuries the seigneurial of Arcs became the property of the Villeuneuve family.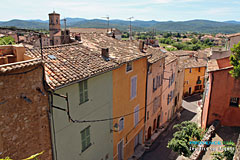 However until 1612, les Arcs was a Baronage and in March 1612 Louis XIII decided to confer the title of Marquis to Arnaud de Villeneuve de Bouliers, noble and baron of Arcs. If today Les Arcs is a modern village, pass through the Clock tower gateway and you will discover a medieval environment with its mixture of steep streets and old buildings.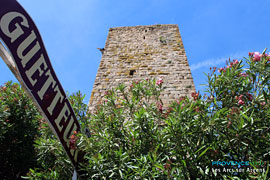 The area between the "sarrasine" tower (XIth century dungeon) and Paul Simon square, called the "Parage", is the oldest in the medieval town. (XIth/XIIIth century). Jean HUGUES, the tourist office guide will be happy to bring this period back to life for you."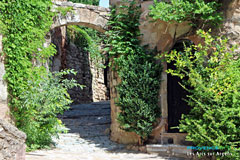 Important medieval heritage with the "Parage" and St Roseline chapel, the St Jean-Baptiste church with its crib and retable dating from 1501 with 16 Bréa compartments.

Leave your car in the Town Hall square and walk. Just wander round the narrow streets. From the highest points looking over the village roof tops you can see the Maures and the Roquebrune rock.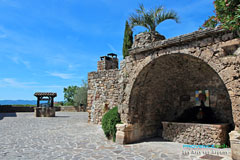 You'll find the Parage tower, XIth century dungeon, remains of the ancient Arcubus Castrum and the St Pierre chapel from the XIIIth - XVth centuries, with its two naves and side chapels (exhibition spaces in summer).

Located outside of the village on the (D91), nestling at the foot of a hill among the vines of the St Roseline vineyard this classified monument dates from the XIIth century and holds the shrine and relics of Ste. Roseline.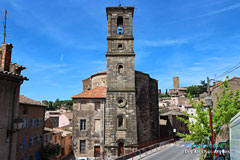 On the initiative of Marguerite Maeght, modern works of art have been added to the altar and cross which date from 1635 and the XIVth century Nativity retable. (A Chagall mosaic, a bronze lectern by Giacometti and stained glass by Ubac and Bazaine)
Next to the chapel we can find the cloister of the Celle-Roubaud abbey (private).


To see, to visit:
On the confluence between the R. Aille and R.Argens, this built bridge is unique in France because it crosses the same river Aille twice. In the background appreciate the sober colours of the Maures forest.

Leisure activities:
Walking tracks. VTT. Cyclo-tourism.

Accommodation:

Several hotels and restaurants