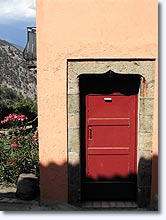 The municipality of Utelle is located at the confluence of the Var and the Vésubie, and includes several hamlets and even a few peaks (e.g. Tournairet at 2,034 m).

Formerly this town had an important position as it was located on the crossroads of the mule trails linking
the Tinée and Vésubie valleys.

It was prosperous thanks to the salt trade, but today Utelle is no more than a very small medium altitude mountain village (70 inhabitants in winter, 300 in summer).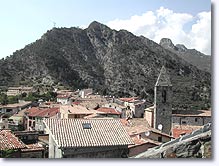 It is no easy task to get to Utelle, perched on a ridge, at the top of a steep slope where the olive trees cling to the mountainside.
But you will be well rewarded by the panoramic view of the peaks of Haute Vésubie that can be enjoyed from the Tilleuls car park, at the entrance to the village.
After stepping through an archway, which is the remains of a medieval surrounding wall, you will be enchanted by the atmosphere of the square with its coloured facades, its impressive 19th century fountain decorated with lion heads, the trompe-l'oeil pink and yellow murals, and in particular the church of Saint Véran.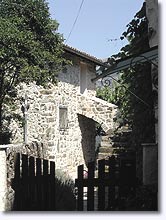 The church's majestic Gothic archway with columns frames a remarkable great door made from twelve sculpted wooden panels that tell the story of the life of St Véran.
The church of St Véran was originally Romanesque but was then rebuilt in the 16th century. It seems to be a monumental edifice for such a small village.
Be sure to go inside and admire its blend of Romanesque style (nave with columns and capitals) and baroque style (amazing sculpted vaults with figures in stucco).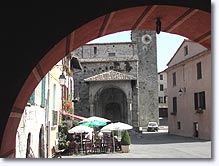 Close by is a White Penitents chapel listed as a historic monument. It is discretely baroque in style and its facade has been repainted in pale yellow. It can be visited on request.
As you take a stroll through Utelle's streets and small stepped alleyways, you will be able to admire the contrast between the pink and yellow roughcast facadesand the old stone medieval houses in various states of disrepair.
Perhaps you will manage to decipher the mysterious patterns that decorate the lintels on several of the old doors: historians are still wondering about their meaning…