Nestling in the depths of the Ennuyé valley, Sainte Jalle is a charming village where you'll never be bored !
You can admire it from above as you approach from the Col d'Ey (718 metres), with the listed church belltower rising up amongst the fields of lavender and vines, between apricot trees and limetrees.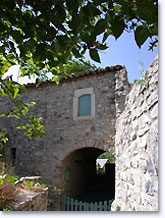 When you get closer, Sainte Jalle proves to be a typical small Provençal market town, with its broad avenue shaded by plane trees, its cafés and market, its pétanque players and its large open air wash-house.
But Sainte Jalle still has some wonderful surprises in store for lovers of authenticity, if you take the time to walk up the cobbled alleyways and steps leading into the village's medieval quarter.
Saint Jalle was a Montauban stronghold in the 13th century, and there are many remnants of this period: vaulted passageways, stretches of wall and old gateways that used to be part of the fortifications, the church's Romanesque belltower and its sculpted archway…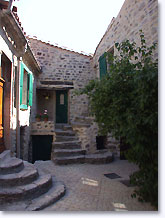 A spellbinding stroll into the past awaits you, especially as most of the grey stone houses have been beautifully restored, and welcome tourists from the whole of Europe.
In reality the entire village has been transformed into a holiday centre, where the happy resident will also find a swimming pool, open-air theatre and table-tennis tables, etc…
You can then walk back down to enjoy an aperitif on the square, marvellously cool in the summer thanks to the dense shade provided by the plane trees !