A wide selection of accommodation in Provence

To easily find your accommodation in Provence, here is a selection of charming bed & breakfast establishments in Provence, holiday rentals with swimming pool, charming hotels, low budget hotels and hotels with a restaurant in Provence, the Luberon, Carmargue, Alpilles, Verdon and Riviera, selected according to your criteria and geo-located on maps... Hotels... Bed & breakfast... Rentals... Campsites...


Fête du Port in Nice
The Port of Nice festival offers an opportunity to enjoy specialty foods (slow food), entertainment and concerts in a wonderful setting
... Fête du Port ...

September, 5th

Cannes Yachting Festival

Bringing together all those involved in sailing from all over the world, focusing on innovation and luxury, the Cannes event definitively
... Cannes Yachting Festival ...

September, 8th to 13th

The Luminessences in Avignon

Every evening at nightfall, a monumental show 3 D in the courtyard of the Palais des Papes tells the story of the Palais with a spectacular
... The Luminessences ...

August, 12th to October 13th

A GUIDE TO YOUR HOLIDAY IN PROVENCE

Designed to help you prepare your holidays in Provence and the Riviera, for you Provence Web has visited the Luberon, Alpilles, Verdon, Camargue, all the villages (873) and all the towns in the Provence and Riviera region.
Now it's your turn
to visit Provence town by town and village by village !

873 towns and villages in Provence and the Riviera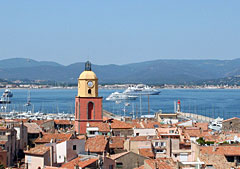 All the Provence villages are described in French and English with photos and videos in some cases. In each description, Provence Web has selected for you the sites not to be missed and the visits that are worth a detour. Comprehensive information about tourism in Provence and the Riviera to make your holidays in the Provence sunshine a dream come true.


Suggestions for stays and visits in Provence and the Riviera, a comprehensive tourist guide to help you choose your accommodation in Provence.



Michel Ange, da Vinci and Raphaël at the Baux de Provence

A fascinating 3D show on 7000m² of projected images immerses you into the world of the painters.

M. Ange, da Vinci, Raphaël...
Until Januaryr, 3rd, 2016
Grapes are ready,
to celebrate the beginning of the harvest... let's party with the Harvest Ban in Avignon.
... Harvest Ban ...