A wide selection of accommodation in Provence

To easily find your accommodation in Provence, here is a selection of charming bed & breakfast establishments in Provence, holiday rentals with swimming pool, charming hotels, low budget hotels and hotels with a restaurant in Provence, the Luberon, Carmargue, Alpilles, Verdon and Riviera, selected according to your criteria and geo-located on mapss... Hotels... Bed & breakfast... Rentals... Campsites...



Santa Claus chalet and his elfes, parade light show, mime, unicycle, children make up, stories, music, street show, pine forest, merry-go-rounds
... Christmas Worlds in Aix ...

November, 19th to January, 11th

Christmas in Nice

will be marked by a sense of wonder and festivities : Christmas village and about 60 craft chalets, a forest of 700 trees, a large ice rink, free entertainment
... Christmas in Nice ...

Decemeber, 6th to January, 4th


A fascinating three-dimensional show on 7000m² of projected images up to 14 m immerses you into the captivating world of the painter
... Klimt and Vienna ...

Until January, 4th

A GUIDE TO YOUR HOLIDAY IN PROVENCE

Designed to help you prepare your holidays in Provence and the Riviera, for you Provence Web has visited the Luberon, Alpilles, Verdon, Camargue, all the villages (873) and all the towns in the Provence and Riviera region.
Now it's your turn
to visit Provence town by town and village by village !

873 towns and villages in Provence and the Riviera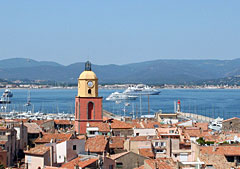 All the Provence villages are described in French and English with photos and videos in some cases. In each description, Provence Web has selected for you the sites not to be missed and the visits that are worth a detour. Comprehensive information about tourism in Provence and the Riviera to make your holidays in the Provence sunshine a dream come true.


Suggestions for stays and visits in Provence and the Riviera, a comprehensive tourist guide to help you choose your accommodation in Provence.

All set for the truffle season
The markets are now open, Saturday in Richerenche, Friday in Carpentras, Thursday...
... Truffles' Markets ...
Until mid-March