A wide selection of accommodation in Provence

To easily find your accommodation in Provence, here is a selection of charming bed & breakfast establishments in Provence, holiday rentals with swimming pool, charming hotels, low budget hotels and hotels with a restaurant in Provence, the Luberon, Carmargue, Alpilles, Verdon and Riviera, selected according to your criteria and geo-located on maps... Hotels... Bed & breakfast... Rentals... Campsites...



Latin Sails will launch Mediterranean sailboats, regatta & exhibitions. Do you like boats ? you won't be disappointed : pointus, catalanes, felouques
...Latin Sails in Saint Tropez...

May, 29th to 31st


These sublim cathedrals of sails, will satisfy fans of great show. 4 days of entertainment and festivities at the port and old tow
... Sails of Antibes ...

June, 3rd to 7th

Exhibition "Southern Lights" in Marseille

Artists have always been fascinated by the quality of the light of the South. Whether born in Provence or draw inspiration from it, the
... Exhibition "Southern Lights" ...

Until September, 6th

A GUIDE TO YOUR HOLIDAY IN PROVENCE

Designed to help you prepare your holidays in Provence and the Riviera, for you Provence Web has visited the Luberon, Alpilles, Verdon, Camargue, all the villages (873) and all the towns in the Provence and Riviera region.
Now it's your turn
to visit Provence town by town and village by village !

873 towns and villages in Provence and the Riviera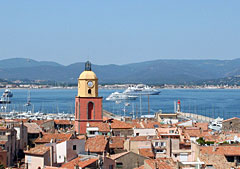 All the Provence villages are described in French and English with photos and videos in some cases. In each description, Provence Web has selected for you the sites not to be missed and the visits that are worth a detour. Comprehensive information about tourism in Provence and the Riviera to make your holidays in the Provence sunshine a dream come true.


Suggestions for stays and visits in Provence and the Riviera, a comprehensive tourist guide to help you choose your accommodation in Provence.



Lumières du Sud

The beautiful southern light fascinates and inspires, the vision of South exalted by painters of the 19th & 20th C.

... Lumières du Sud ...
Until September, 6th
The Month of Gardens
in Menton
The whole month long Menton celebrates its famous gardens. Visits will be commented by the gardeners, owners and guides.
... Month of Gardens ...


June, 1st to 30th