A wide selection of accommodation in Provence

To easily find your accommodation in Provence, here is a selection of charming bed & breakfast establishments in Provence, holiday rentals with swimming pool, charming hotels, low budget hotels and hotels with a restaurant in Provence, the Luberon, Carmargue, Alpilles, Verdon and Riviera, selected according to your criteria and geo-located on mapss... Hotels... Bed & breakfast... Rentals... Campsites...



La Ciotat provides the perfect location for the boat business and people who love boats and the sea ... whether by sail or motor
... La Ciota Boat Show ...

March, 15th to 23rd

Mimosa trail

This is the period to set out on the "mimosa trail" in the pleasant winter sunshine, surrounded by sumptuous landscapes finishing in Grasse
... Mimosa trail ...

From January 15th

Ancient bronzes in Mucem Museum in Marseille

Splendors of Volubilis presents a collection of 18 high quality bronzes, national treasures from excavations in Morocco
... Ancient bronzes in Marseille ...

March, 12th to august, 25th

A GUIDE TO YOUR HOLIDAY IN PROVENCE

Designed to help you prepare your holidays in Provence and the Riviera, for you Provence Web has visited the Luberon, Alpilles, Verdon, Camargue, all the villages (873) and all the towns in the Provence and Riviera region.
Now it's your turn
to visit Provence town by town and village by village !

873 towns and villages in Provence and the Riviera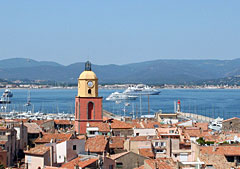 All the Provence villages are described in French and English with photos and videos in some cases. In each description, Provence Web has selected for you the sites not to be missed and the visits that are worth a detour. Comprehensive information about tourism in Provence and the Riviera to make your holidays in the Provence sunshine a dream come true.


Suggestions for stays and visits in Provence and the Riviera, a comprehensive tourist guide to help you choose your accommodation in Provence.




Santons fairs

Small, cute, pretty and naive, they come out at Christmas.

... Santons Fairs ...
Until January, 5th
All set for the truffle season
The markets are now open, Saturday in Richerenche, Friday in Carpentras, Thursday...
... Truffle markets ...
Until mid March