Aix en Provence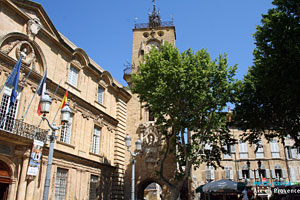 Protected by the Montagne Ste Victoire which rises to 1,011m. Aix is surrounded by a countryside full of authentic Provencal houses and traditional French style gardens.
The name Aix comes from the source discovered when the city was founded in 123b.c. by the Romans.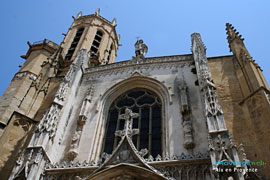 Aix was the capitol of
Provence
in the 15th century. Wealthy merchants and local dignitaries helped turn this city into the
Florence of Provence
as we know it today.
One can find all the beauty of the
noble
Provence
of the17th and 18th centuries: handsome houses of the upper class, private mansions, city squeres bursting with flowers, ancient fountains and shaded narrow streets.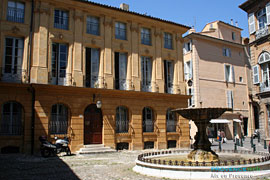 Aix was the inspiration to many of the greatest writers and painters : Guigou,
Stendhal
, Mistral,
Zola
, and
Cézanne
. There is even a special Cezanne tour which one can follow through the streets of Aix stopping at points marked with a C.
As a city of art and culture Aix possesses a wealth of superbe architecture that has been carefully preserved and restored.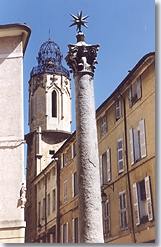 Walking through the Cours Mirabeau and the Rue Gaston de Saporta one can admire the private mansions with their sculptured doors and windows and the intricate iron work on the balconies.
Discerning shoppers choose the elegant boutiques in the
quartier
Mazarin.
Each summer the
International Festival of Lyric Arts and Music
acclaimed prima donnas and maestros in a fabulous selection of singing and music. The Dance Festival is also world reputed.
What to see
Cathedral St. Sauveur.
The Hôtel de Ville.
The Tour de l'Horloge.
The quartier Mazarin and its narrow streets.
The Granet museum.
Cézanne workshop.
The Cézanne trail.
The Old Aix museum.
Vendôme Pavilion: French gardens and collections of furniture and art objects.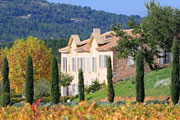 Château Paradis sis a winery of the Coteaux d'Aix en Provence appellation. You will find there red wines with light tannins, light and fruity rosés. Located at 20 minutes from the north of Aix-en-Provence, the estate will show you the diversity of its wines and terroirs with a free tour or tasting. See the winery's visits
Leisure activities
Swimming pool. Horse riding. Golf. Tennis. Squash.
Night Clubs. Theaters.
Walks, hiking.
Museums. Casino. Shopping...
Bed and breakfast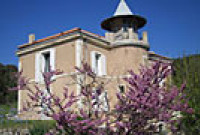 3 luxury and charming bed & breakfast incl a 60m² suite with 100m² terrace
in a 18th C renovated house
Swimming Pool - 5 ha park - Quiet
Holiday rentals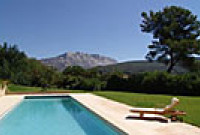 A holiday rentals selection
Specialized real estate agency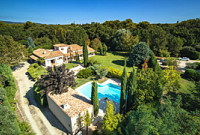 Contemporary air-conditioned villa rental 300m² 12/14 people 5 bedrooms, 5 bathrooms, 6 toilets. Covered furnished terraces. Heated swimming pool, pool house, barbecue, landscaped garden not overlooked, quiet.