Discover our maps of Provence and the PACA region
Click on the Provence Alpes Côte d'Azur region tourist map to discover detailed maps of the 7 departments of Provence and the Côte d'Azur.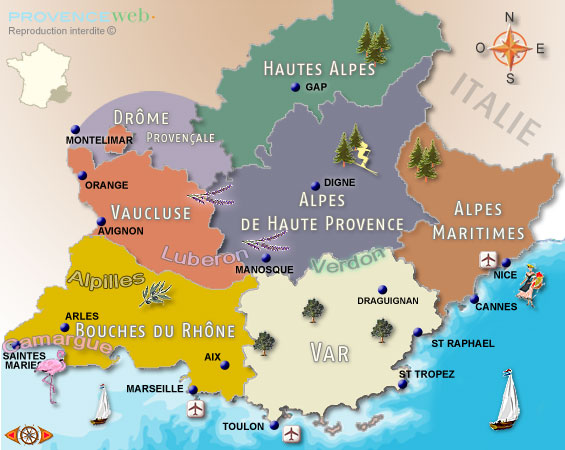 TRAVEL IN PROVENCE WITH OUR INTERACTIVE MAPS
To choose your destination in Provence Cote d'Azur, you can use our interactive maps.
From the map of the region, click on one of the six departments that make it up, i.e. Var, Vaucluse, Alpes Maritimes, Bouches du Rhône, Vaucluse, Hautes Alpes, to which we must add Drôme Provençale, which has all the characteristics of Provence even though it doesn't belong to the PACA region administratively.
- Beaches and seaside.
If you want to enjoy the sea, go to the beach, go boating, water-skiing or scuba diving, the 3 coastal departments including Var, Bouches du Rhône and Alpes Maritimes will enable you to practice your favorite water sports or simply sunbathe without doing anything.
If it's the Côte d'Azur you're dreaming of, it stretches from Menton on the Italian border in the Alpes Maritimes to Saint Tropez in the Var.
The most beautiful sandy beaches are to be found mainly in the Var, notably at Ramatuelle in the Gulf of St Tropez (the great Pampelonne beach), but also at Bormes les Mimosas (Estagnol beach), Hyères (Almanarre beach, a windsurfing and kite surfing paradise), as well as at Le Lavandou, Fréjus and St Raphaël, which have beaches very close to the town center. In Nice in the Alpes Maritimes, you'll find large pebble beaches along the Promenade des Anglais. Most of the major luxury hotels on the Côte d'Azur have their own private beaches where you can relax and soak up the sun in comfort. And let's not forget the superb city of Marseille, with all its typical districts well worth discovering.
- Inland Provence and the Provencal hinterland.
This is Provence in touch with nature. It's the beautiful Provence of the Luberon and its chic little perched villages. Beautiful old houses, lavender fields, shady terraces, colorful markets... it's not just a postcard cliché, it's real life in Provence. In the Alpilles near Saint Rémy de Provence and Les Baux de Provence, you'll discover the Provence of Daudet and Mistral, and the endless fields of olive trees that produce the famous Baux de Provence AOC olive oil. You'll discover wild but not deserted landscapes, unspoilt nature and traditions that are still very much alive. Here, festivals are sacred and respected, and not just Christmas and Easter... village festivals and votive feasts are very important here. For many, this is where the heart of authentic Provence beats. This is the Provence so dear to Pagnol, that of the hills surrounding the hinterland of Marseilles. It's the Provence of the cicadas that sing at the top of their voices at siesta time.