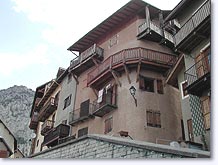 Briançon has been provided with a rich historical past; its high city which looks over the Durance River was fortified by Vauban.
To know more about Briançon's curious past one can visit the Maison des Templiers, the church of the Cordeliers, and the chapel of the Pénitents, Less well known but just as interesting, some of the local associations have worked together to help shed light on the old times and ways of Briançon (the costumes, family life, trades, crafts, the old mines and the irrigation canals).
Throughout the years Briançon has become as animated in the summer as it is in the winter. Mountain lovers are won over by the vast nature parks which give sanctuary to fauna and flora; skiers are gratified with the 250km. of slopes at the Serres Chevalier ski resort.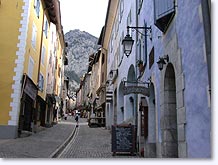 Hikers are in a quandary when having to choose from the park of Ecrins, the park of Queyras, or the valleys of Clairée, Guisane, Nevache or Vallouise!
After all this healthy exercise one can then order without guilt the Vauban menu : 17th century dishes researched by local chefs and adapted to today's techniques.