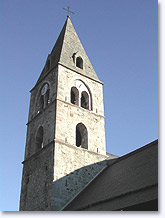 From far away, Chorges looks like a large village standing against a backdrop of high mountains, grouped around a beautiful Romanesque belltower.

As you get closer, you will learn that that Saint Victor church dates back to the 12th century, and that the mountains close by, Aiguilles de Chabrières and Mont Colombis, have summits at 2500 metres.

In ancient times, Chorges was a waystation on the Briançon-Arles Roman road, and the capital of the Caturiges. A stele has survived from this period, bearing the inscription "Nero, prince of youth".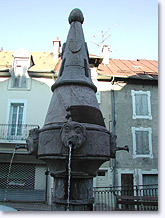 In the Middle Ages, Chorges was protected by defensive walls and round towers. Only a few remnants of these fortifications are left today. Nevertheless, a stroll through the cobbled streets of Chorges will still take you back in time.
You'll be able to admire a round fountain spurting water out of the mouths of beasts as imaginary as they are ancient (the fountain was built in 1548), a 16th century door, and of course Chorges' main historical monument, Saint Victor church with its shingle roof.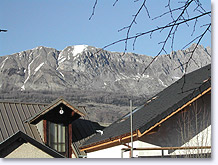 It is still magnificent despite its venerable age - 12th century for the original strucure - and was built over several centuries. Specialists will recognise a 13th century door, a 15th century "flamboyant" window, a 14th century twin storey belltower and a Renaissance altar.

In addition to this impressive architectural heritage, Chorges is also well situated, right next to Serre Ponçon lake and on the edge of the Ecrins National Park.

If you like nautical sports or serious mountaineering, Nature with a capital N is waiting for you at Chorges !