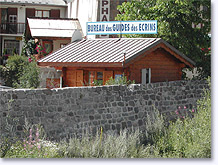 Vallouise is located on the edge of the Ecrins National Park, at the foot of prestigious summits such as Mont Pelvoux (3946 m), Ailefroide (3953 m) and Barre des Écrins (4102 m), and near to the ski resorts at Puy St Vincent and Pelvoux-Vallouise. It has everything to attract people who love mountains.

But this large mountain village with its traditional architecture combining wood and stone is also renowned for its listed medieval church, its penitents' chapel covered with wall paintings and its numerous sundials.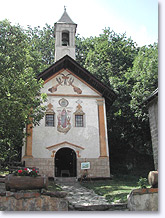 Not for nothing is Saint Etienne church the major edifice of the Gyronde valley, with its Romanesque porch, Lombardic frieze and superb grey and yellow stonework. It stands majestically on one side of a little square in the centre of which is a beautiful pink stone round fountain decorated with lion heads (dating from 1894).

Nearby, you'll notice a small chapel with its front painted with trompe-l'oeil decoration.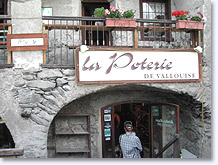 It is the Penitents' chapel, built at the end of the 16th century. The belltower and its frontage built in the mountain style are covered with a fresco representing the Assumption of the Virgin and were restored in 1877.

The picturesque and lively village of Vallouise has plenty of shops and even a discotheque. It promises "open air" holidays and its pure invigorating air will do you the world of good.