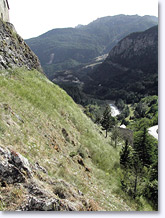 This is a high altitude valley, confined between the Guil Gorge on one side and a cirque of high peaks in the Briançonnais, Italian Piedmont and Upper-Ubaye.
It is the most enclosed mountain valley in France, was isolated for many centuries, and could not be reached throughout the year until 1855, when the "route du Guil" was opened up, replacing a perilous mule track. Although the Queyras, which is fundamentally an agricultural area, opened up to tourism - in the late 19th century - it was never mass tourism. The status of Regional Natural Park obtained in 1977 made it possible to protect the purity of the landscapes and the uniqueness of villages with unforgettable charm, like their names : Ceillac, Arvieux, Château-Queyras, Ville-Vieille, Molines, Saint Véran, Aiguilles, Abries.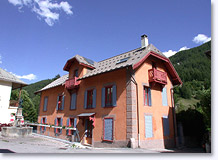 Nature lovers and people looking for authenticity will be delighted. Queyras offers them more than 100 km of cross-country skiing routes - winding from village to village and from valley to Alpine pasture - which makes it the largest Nordic skiing venue in the Hautes-Alpes department.
Queyras' arts and crafts are just as authentic. Indomitable basket-makers, wood sculptors and lace-makers abound. The same can be said for the local gastronomy; it's simple generous cooking, in the mountain tradition, always ready to feed a traveller who is lost or exhausted by long walks. Local hams, tomme cheeses, pies and cabbage sausages, potato and cheese tourtons, crozets, etc. await the visitor.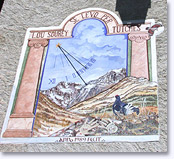 One of the musts for any visitor to the Queyras is at Arvieux, the Brunissard Campanile. This symbol of community traditions was used to assemble the inhabitants for their day of unpaid labour or "ruido" or to sound the alarm in the event of fire. At Saint-Véran, are the numerous sundials, both old and new, including one signed by the famous Italian painter Zarbula in 1840. At Château-Queyras, is Fort Queyras, a medieval fortress which barred the way against pillagers from Provence. At Arvieux is the "Casse Déserte" at Col de l'Izoard (2360 m), gigantic fallen limestone rocks which seem to have issued forth from the depths of the Earth.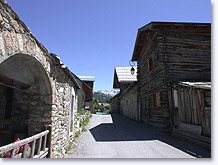 Sundials, forts, the regional park and gigantic fallen stones; the beauty of the Queyras is both natural and man-made. Not forgetting the must for anyone interested in Queyras traditions: the "fustes" or wooden houses, which are now rare because of fires, but which are still to be found at Molines en Queyras and especially at Saint Véran, where one of these fustes has been converted into a museum open to visitors. Here you will discover the traditional way of life of Queyras in ancient times. There would be a stable and living area on the ground floor (people and animals sometimes sleeping together for warmth!), the "fuste" was on the 1st floor, serving as both a barn and hayloft, built from larch wood, with plenty of ventilation to allow the hay to dry. People lived close to nature !