Perched above the pleasant valley of the Drac river, Saint Léger les Mélèzes is a small mountain village in the Champsaur massif, where the pure air is imbued with the fragrance of larch trees, as its name suggests ("mélèze" means larch in French).

The village nestles around its belltower, and has some beautiful wooden chalets, and above all a superb château still in excellent condition. This château built in the Middle Ages under the aegis of the Counts of Provence - the north frontage and both turrets date from this time - was altered in the 17th century by Charles Salomon de Serre, the bishop of Gap.
He it was who order the building of high walls flanked by four round towers, two of which still stand to this day. The château is privately owned and can therefore be admired from the outside only.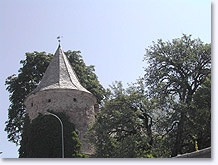 When the village is covered in its white winter coat of snow, it becomes a family ski resort where all the winter sports are practised: toboggan, sled dog rides and all types of skiing, even on bumps! Saint Léger les Mélèzes is right next to the Ecrins National Park, and in summer becomes the place for outdoor leisure activities; from mountain hiking to mountain-biking, and also including hang-gliding and peaceful angling on the banks of the river.