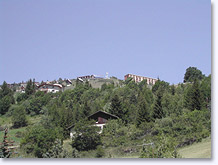 In upper Champsaur, in the heart of the Ecrins National Park, Orcières is a large village clinging to a hillside.

Architecture enthusiasts will recognise the typical "Orcières" house: square in shape, with a gable wall as the main façade and a dwelling on two levels. It is built from local stone, with a timber structural framework covered in olden times with slates but now more often with metal or shingles.
On the ground floor, the kitchen is next to the stable, on the first floor with a floor made from larch wood is the bedroom and ... the barn, people and animals living together in olden times to keep warm !


Prapic is a characterful hamlet and the starting point for many hiking routes. It nestles in the Drac Noir valley, far far away from the main lines of communication.
Its agricultural areas are notable for the piles of stones placed on the edges of the cultivated fields by farmers. Don't miss the little "musée de la Casse", presenting a collection of everyday objects telling stories about yesteryear's professions.

Orcières Merlette is a ski resort built in the 1960's above the Drac Noir, offering all the delights of winter sports: from downhill skiing to cross-country skiing, not forgetting original activities such as horse-drawn ski joering !