Camargue
Discover the wonders of the Camargue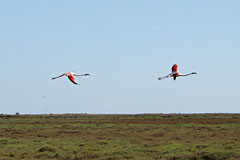 The Camargue is a unique area lying between two arms of the Rhône river. Its vast expanses give it a special atmosphere to be found nowhere else. It is paradise for migratory birds, a nesting area for flamingoes, and home to bulls and horses.
Discover it on foot, on horseback, on a bicycle or in a boat, taking it slowly, respecting the natural environment, far from city crowds, noise and pollution.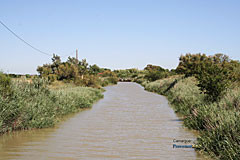 This huge alluvial plain covering some 750 km2 forms a triangle with Arles at its apex and a line along the coast from Les Saintes Maries de la Mer to Salins de Giraud forming its base.
This miraculously preserved gem is the only one of its kind in Europe, covered with meadows, ponds, swamps, rivers and salt marshes. Here you will discover immense bull and horse breeding ranches called "manades". The main crops are rice and wheat. Thanks to the Camargue regional nature park, an area of 86 km2 is devoted to the protection of the natural environment and its species. Equipped with binoculars and a little patience, you will easily be able to observe herons, egrets, ducks and of course flamingoes.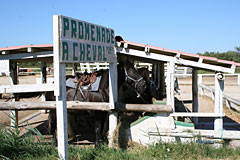 The ideal way to explore the Camargue is on horseback, discovering the remotest corners of this wild and poetic land. It's also perfect for walking and cycling; there are no hills and nearly 20 km of roads are closed to motor vehicles, from Saintes Maries to Salins de Giraud.
Bordered by 60 km of fine sand beaches, the Camargue is also a hit with sunbathers. South of Salins de Giraud, you'll find Piemancon beach, a little further west is Beauduc beach, and then the naturist beach at Pertuis de la Comtesse.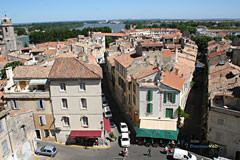 This area is also endowed with a rich and prestigious heritage, with many architectural treasures and museums to be discovered in Arles, a town of art, history and light ... the setting that inspired Van Gogh to produce nearly 300 paintings and drawings (in just 15 months ... !).
The Camargue is a mixture of atmospheres and cultures, where people love to party. Férias, festivals, pilgrimages, rice festival, horse festival, corsos, corridas, etc.
Here flamenco, gypsies, guitars and the tzigane amtosphere blend with traditions where bullrings, the girls of Arles, ranchers and herdsmen grab every opportunity to look their best.

Accommodation in the Camargue
Would you like to spend your vacations in the Camargue, but don't yet know where to stay? Provence Web has selected a dozen establishments ideal for spending a weekend or a few weeks' vacation in our beautiful Camargue!
Click on the type of accommodation of your choice to discover our recommendations:
Don't hesitate to contact us if you have another quality establishment to recommend. We look forward to hearing from you.