Restaurants and tables d'hôtes in Provence
If you're looking for a good restaurant in Provence, there's no shortage! But with so many possibilities, it's not always easy to choose. If you're planning your stay in Provence, here are a few ideas of restaurants we've tried out and warmly recommend for the quality of their food and welcome!
Discover Provençal gastronomy to your heart's content, from the gourmet menu of a top restaurant to the simple dish of the day at a small "resto" or the family-style cooking of a Provençal "table d'hôtes". Good, sunny produce is on the menu, and the flavours of Provençal produce will delight gourmets and gourmands alike.
Here are a few good addresses to discover the cuisine of Provence. We've sorted these restaurants by department to make it easier for you.
If you would like to add or recommend another restaurant to this list, please contact us!
Restaurants in the Bouches du Rhône
L'OUSTAU DE BAUMANIÈRE *** in the Baux-de-Provence
L'Oustau de Baumanière boasts three Michelin stars and offers gourmets fine, authentic cuisine, culminating in a tasting of one of the great vintages from the estate's precious cellar.

LA CABRO D OR in the Baux-de-Provence
Gastronomic restaurant with dining room opening onto the gardenChef Michel Hulin invites you to sample his refined cuisine inspired by the produce from his organic garden and olive oil from the Vallée des Baux, accompanied by a selection of local vintages.

LE CLOS DES CYPRÈS in Graveson
Gastronomic table d'hôtes. Former restaurateurs (restaurant with 3 Michelin forks for 16 years and 2 Gault & Millau toques). Creative, gourmet cuisine prepared by chef Stéphane using quality seasonal produce.

HOTEL *** RESTAURANT LE MOULIN D'AURE in Graveson
Every day, a different menu depending on the seasonThe restaurant offers resolutely Mediterranean cuisine with refined, elegant market fare combining the quality of the produce and the traditions of the land. Shaded terrace by the pool.

LA CUISINE DES ANGES in Saint-Rémy-de-Provence
Authentic local cuisineLa Cuisine des Anges offers authentic local cuisine. Make the most of the indoor patio when the weather is fine, and the cosy dining room is also open to you.
Restaurants we recommend in the Var

LES MÛRIERS in Roquebrune-sur-Argens
Fish specialities, bouillabaisse and bourride. Les Mûriers, a gourmet restaurant offering a taste of the sea and local produce, serves up fisherman's fish on its shaded terrace facing the sea, with Saint Tropez on the horizon.

LA TABLE DE LA MESSARDIEREin Saint-Tropez
Gourmet restaurant with panoramic terrace. Recognised as one of the top restaurants in the Gulf of Saint-Tropez. A champion of local produce, the chef serves authentic, creative and generous cuisine.

HORIZON - GRAND HOTEL DES SABLETTESin La Seyne sur Mer
Refined French cuisine in the glass-roofed rotunda
Gastronomic dining combining refinement, creative cuisine and a cosy setting
Restaurants à ne pas manquer dans le Vaucluse

LES CHÊNES VERTS in La Bastidonne
Meals are a great way for all our guests to get to know each other. It's also an opportunity to take the time to taste the Provençal and Southern dishes prepared by Véronique.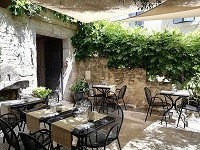 LA PRÉVÔTÉ in l'Isle-sur-la-Sorgue
A restaurant above the river in L'Isle sur Sorgue
Restaurant in an inner courtyard in summer, in front of the fireplace in winter.
Waterfront wine bar in a charming town house
5 cosy, charming guest rooms on site

LE MAS DES CIGOGNES in Le Thor
Table d'hôtes by a professional chef
Regional specialities from Provence or Alsace, not forgetting dishes from all over the world.
5 charming guest rooms on site
Good restaurants in Alpes-de-Haute-Provence
Here are a few restaurants we recommend for your holiday in the Alpes de Haute-Provence

LA CAMPAGNE ST LAZARE in Forcalquier
Discover our authentic and tasty cuisine
When Babou returns from our vegetable garden,...when she comes back from the market or from the nearby breeders... a passionate story begins in the kitchen, which will travel all the way to your plate...

LA TABLE DE PAULINE - VILLA BORGHESEin Gréoux-les-Bains
Maître Restaurateur, 1 Toque Gault et Millau
Chef Frank Pujol offers Provençal-inspired cuisine, both light and gastronomic, with menus from €32. Outdoor "Côté jardin" menu in season.