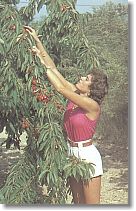 A large part of the attraction of the villages and towns of the Luberon is owed to the traces of human activity, an influence which is also present in the countryside. Nowadays agriculture provides a link with former times and the landscapes you appreciate are its result

Nature protection in sites and landscapes is combined with harmonious development. Thus all projects (construction, clearance, roads, quarries, networks...) are closely controlled as are all planning proposals and progammes affecting forests and rivers. As a rule, joint action by the Luberon Nature Park and the communities aim to bring the territory to "levels of excellence". This is why the Park takes part in matters related to : - the quality of life of its inhabitants (refuse processing, village amenities, socio-cultural activities); making children sensitive to the environment. - making the Park attractive for visitors (trails, site development, museums).

Developing the villages and towns of the luberon in order to keep them lively and attractive requires determination. The Luberon Regional Nature Park initiates or supports projects which shape the future (irrigation, land regrouping, promoting works), while at the same time taking care to keep tourism in the right balance.

As a community project, the park needs the support of all; especially you if you are living or staying in it..


Parc Naturel Régional du Luberon
60, place Jean Jaurès
BP 122 - 84404 Apt Cedex
Tel. : +33 (0)4 90 04 42 00 Fax : +33 (0)4 90 04 81 15