'; //-->
Lacoste
The Vaucluse Departement - Luberon Nature Park - Pop.: 426 inh.



6 km east of Menerbes on the D109.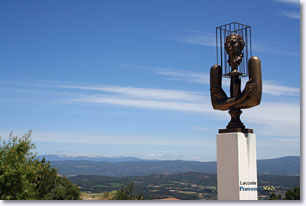 Lacoste is a magnificent village in the Luberon Nature Park, located on a green hill above a vast plain.

It faces the village of Bonnieux which can be seen on the hill opposite.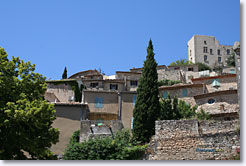 Lacoste is the village which houses the castle residence of the famous Marquis de Sade.

In 1771 the Marquis fled from Paris to escape the scandals created by his erotic writing and outlandish behaviour (too liberal for the era).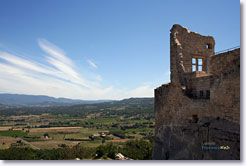 This large castle of the XI ° partly in ruins, dominates the village and the vestiges of the ramparts, admire it from afar because its surroundings are not completely secure (rock falls).

It now belongs to the famous fashion designer Pierre Cardin, who restored it and organized a cultural festival there each summer.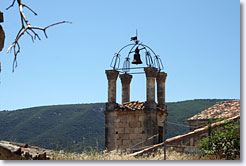 The Chateau de Sade is not the only thing to discover in Lacoste, the village has charming little cobbled cobblestone streets that you have to take the time to discover.

The streets go up and down, wind their way through a charming little labyrinth, it is with delight that you will discover step by step a village that has kept all its character.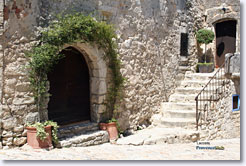 You will pass beautiful old houses carefully restored, beautifully framed with plants and flowers.

Lovers of old stone will be delighted here and will find it difficult to leave the village as the charm and the atmosphere it exudes are endearing.






What to see:
Ruins of the chateau du Marquis de Sade.
12th century Church.
Ancient quarries of huge, underground stones.


Leisure activities:
Tuesday morning market.
Hiking and mountain biking.
Cultural events: concert in the quarries, mid-August.
Festival during the last weekend of July


Bed and breakfast
Lacoste
(Luberon)
- Apt : 20 km


Accommodation:

Bed and breakfast.
Vacation rentals.


Neighbouring towns and villages:
Menerbes (7 km), Bonnieux (7 km) and Beaumettes (9 km).