Drôme Provençale
Discover the secrets of Drôme Provençale
Population: 130,175 h Surface area: 2,000 km².
The department of Drôme is located in the southern part of France. Its neighbours are the departments of Alpes de Haute Provence (04) to the south-east, Hautes Alpes (05) to the east and Vaucluse (84) to the south.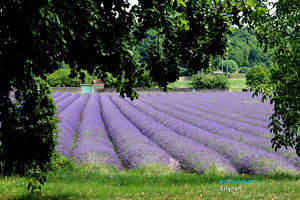 The Drome belongs to the Rhône Alpes region, but although it is not officially part of the Provence Alpes Cote d'Azur region (PACA) in an administrative sense, it certainly has all the characteristic features of a Provencal departement.
In fact the southern third of the department is referred to as La Drôme Provençale.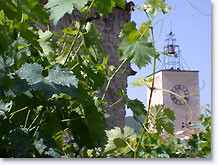 Although the geography of La Drôme provençale is imaginary, and its exact borders to not exist officially, it is in any Vinsobrescase an area on the border between Dauphiné and Provence, but with a clear preference for the South.
It is the gateway to Provence, the link between north and south...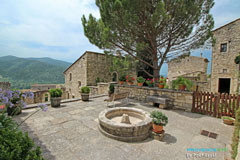 This is where the weather changes, where the sun replaces the rain, and clouds give way to a clear blue sky.
This is where lavender and cicadas start to appear.
Everything about this area evokes Provence, starting with the local produce: black olives from Nyons and nougats from Montélimar, lime-blossom tea from Baronnies, truffles, Picodons and Foujou goat's cheese...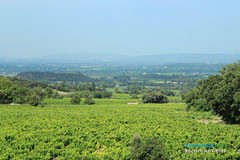 There is nothing nordic about the nectar of the gods harvested here. The wines of the Drome have a good reputation: AOC "Cotes du Rhone" (Hermitage and Crozes-Hermitage), "Cotes du Rhone village" from Rochegude, Rousset les vignes, Saint Pantaleon les vignes and Vinsobres.
While the natural environment in Drôme provençale is bountiful, the area's cultural heritage is also of great interest.
There are many medieval sites bearing witness to a turbulent past marked by battles between local lords, and then by the greligious wars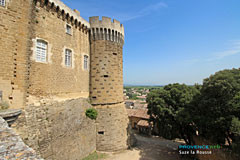 Built on ridges overlooking the villages, today these castles are often in ruins, but some are still in perfect condition and are worth visiting, such as Grignan (made famous by par Madame de Sévigné), Suze-la-Rousse (and its wine university) or Aulan (perched on its rocky spur).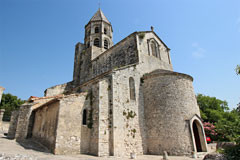 The Drome provencale also boasts three of the 100 most beautiful villages in France: La Garde Adhémar, Le Poet-Laval and Montbrun-les-Bains.
Lovers of old buildings will be able to admire the beautifully restored villages of Valaurie and La Laupie, the ancient perched villages of Rochebrune and Vercoiran.irer les très beaux villages restaurés de Valaurie et de La Laupie, les vieux villages perchés de Rochebrune ou de Vercoiran.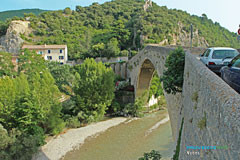 They will also be able to discover the superb Romanesque churches at Solérieux, Saint Restitut, Sainte Jalle and La Garde-Adhémar, as well as the 12th century priory at Vinsobres.
The Romanesque bridge at Nyons is well worth a visit, as is the feudal keep at Chamaret, the listed fountain at Mollans-sur-Ouvèze and theNyons 15th century square with its arcades at Buis-les-Baronnies.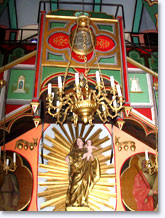 ou should also visit the Museum of Miniatures at Montélimar and the museum of Protestantism at Poet-Laval.
Gourmets and sensitive taste buds will be fascinated by a visit to the Truffle Museum at Saint-Paul-Trois-Chateaux.
No doubt about it, here in Drome Provencale, you are in "Le Midi".
The climate is Mediterranean, the sky is blue and the light is exceptional. The lavender fields and vines are in place, stretching as far as the eye can see.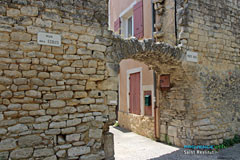 Every week the markets take place with theirAulan sing-song accents, colours and fragrances.
In the old villages full of charm with their stone houses and brightly coloured shutters, everybody meets up in the village square to say hello while fetching the bread.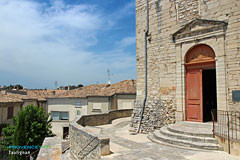 The café terraces are shaded by plane trees, there is pastis, olives, red wine and cool rosé, pétanque ... all the clichés you see in postcards, but they are all part of everyday life in these villages, proving that the relaxed rhythm of life is still in existence and thriving.
Without doubt this is one of the trademarks of life in the South, Provence and Drôme provençale.


Find where to stay during your holidays in Drôme Provençale
Provence Web has selected a number of tourist establishments for you to enjoy an excellent holiday in the Drôme. Here are our favourites:
Don't hesitate to share your favourite establishments with us, we'll visit them and add them to our selection.