20km. from Hyeres on D559 heading towards de Le Lavandou and Cavalaire.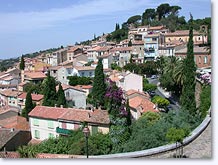 One of the most florally decorated towns of France, Bormes les Mimosas is often compared to a Provencal nativity scene due to its ancient village.

All the old houses are covered with pink tiles, the streets are lined with flowers and the medieval village with its castle ruins and ramparts offers a panoramic view of the plains and the lles d'Or (golden islands).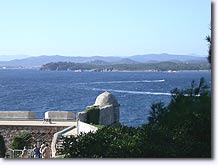 The Favière quarter is very pleasant and the boat harbor and marina are to be seen.

Further along having been through pinewoods and planted hillsides you will appreciate the beaches ot Cabasson, Estagnol, Pellerin, and Favière.

On a small peninsula in the old fishing hamlet of Cabasson is the famous Bregançon Fort, the summer residence of the presidents of France.