'; //-->
Les Gorges de la Méouge
Departement of the Hautes Alpes

7km from Laragne-Montéglin via the D942 leading to Antonaves.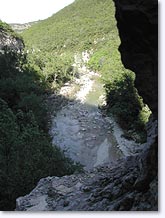 When you take this road (D942) as picturesque as it is narrow, with its many suprising meanders, drive carefully, and above all don't miss the parking spaces that have been provided.

Budding geologists will admire the enormous slabs of rock forming beautiful ivory coloured layers.

The curious amongst you will read with interest the information panels describing the wildlife and plants. Here you are in a biological nature reserve bursting with Alpine, Provençal, Mediterranean, Iberian and even North African plants.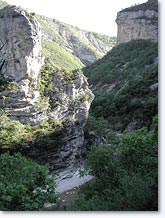 Hikers will find several waymarked paths here and if you enjoy aquatic activities you'll find the ideal spot for swimming, as you go down to the edge of the Méouge river, winding along its verdant route.

The Méouge has its source in the Drôme, and is really a rumbustious mountain torrent that over a distance of more than 4 kilometers has carved out a river bed made up of enormous boulders alternating with tiny little sand beaches, deep pools and waterfalls.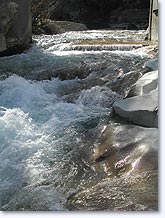 Even people who like old buildings will be happy, as they admire a very old three-arched Romanesque bridge, still in very good condition, as well as the remains of a mill which was carried away by a flash flood in 1901.

The Méouge, which is delighfully refreshing in summer, can also be descended in a kayak in the spring, or flown over in a hang glider or paraglider. The take-off point is at Chabre, which also affords a superb panoramic view!





Neighbouring towns and villages:
Antonaves (1km) and Laragne-Montéglin (7km).