Laragne Montéglin
18 km from Sisteron via the N4075 (E712) road.
Laragne-Montéglin, a charming village near Sisteron
Population : 3,372 inh. - Altitude : 573 m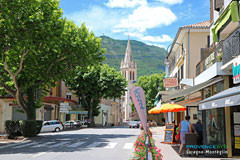 Benefitting from the exceptional climate of the Buëch area, both Alpine and sunny, Laragne-Montéglin is a large Provençal looking village, as proved by its square planted with plane trees, cafés, and its imposing fountain.
With the mairie and its pretty faded pink façade, Laragne-Montéglin is a pleasant little town, with all the necessary shops as well as plenty of cafés to enjoy a drink on the terraces when the weather is fine.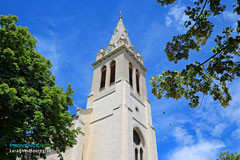 Inside the large church with a fine Romanesque belltower is a very understated nave beautifully lit by magnificent stained glass windows, all dating from 1901 and each representing a saint (Saint John, Joseph, Leon, Louis and Francis of Assisi).

Behind the church a charming Giono garden intended to have a pedagogical function will provide you with a cool place to sit.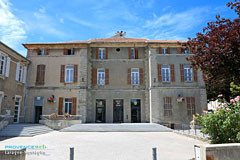 If you like architectural heritage, don't miss the Perrinet château, on Place des Aires. It was built in the 17th century by Gaspard de Perrinet, the Lord of Laragne, and was frequently altered over the centuries.
Only its vaulted cellars, previously used as a bakery, are open to visitors. They have now been converted into a museum. A permanent exhibition tells how the château was built from 1609 to 1630.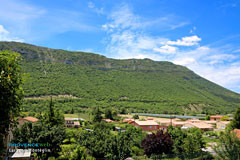 Hang glider flyers from throughout Europe gather to throw themselves into the air from the top of the Chabre mountain, which overlooks the town.
Since 1994 when it was the venue for the European hang-gliding championships, Laragne has become the "European hang-gliding capital", a take-off point that is used virtually all-year round by hang gliders and paragliders.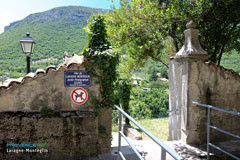 According to the "pros", conditions are ideal to launch long distance flights, with dry air and high clouds in a semi-arid region, exceptional sunshine levels (more than 300 days a year), winds that blow along the valleys, and valleys that are wide and low (between 1200 and 1500 metres).
What to see
Gaspard de Perrinet Chateau, 17th century, included on the list of historical monuments.
Arzeliers church.
Giono garden.
Leisure activities
Hang gliding.
Hiking, pony-trekking, cycle touring and mountain-biking.
Climbing.
Water sports.
Accomodations
Hotels.
Bed and breakfast.
Holiday rentals. Gites. Furnished acommodation.
Family Holiday Village.
Campsites.