Discover our selection of bed and breakfasts from Fréjus to St Raphaël
Looking for a beautiful B&B in the Fréjus and Saint Raphaël area? Look no further!
Here's the one we recommend, elegant, friendly and conveniently located!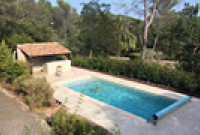 3 spacious, renovated bed and breakfast with independent access
Large heated pool, air-conditioned, private terrace. Peaceful and green setting.
Contact us to list your B&B on Provence Web.