Serre Chevalier
9 km North-West of Briançon via the RD1091 road
Discover the village of Serre-Chevalier, a famous Ski resort of the Southern Alps
On the territory of Salles les Alpes - Population : 3,500 inh. - Altitude : 1.400/2.800 m.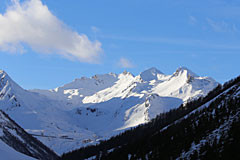 At the crossroads between Provence and Italy, Serre-Chevalier (known as "serre-che" to regular visitors) is the largest ski resort in the Southern Alps.
Serre-Chevalier is in fact the name of a valley which begins at the top of the passes of Lautaret and Galibier and ends 20 kilometres further down at Briançon.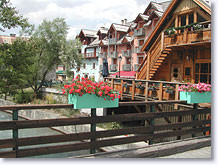 It consists of three entities, located in the Guisane valley at three different altitudes - hence the names " Serre Chevalier 1350", "1400" and "1500". These entities comprise a total of sixteen villages:
- Saint Chaffrey, Chantemerle, and Villard Laté for Serre Chevalier 1350.
- La Salle, Moulin Baron, La Chirouze, Les Pananches, Le Bez , Villeneuve for Serre Chevalier 1400.
- Le Monetier les Bains, Le Freyssinet, Le Serre Barbin, Les Guibertes, Le Casset, les Boussardes, Le Lauzet for Serre Chevalier 1500.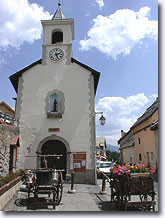 Of all these villages, the most interesting from the point of view of historical heritage is undoubtedly La Salle les Alpes (976 inhabitants).
For example, its frequently altered Saint-Marcellin church has an elegant 15th century porch with columns and vaulted roof with lancet intersections.
Admire its "Lombardic" Romanesque belltower (14th century), considered to be one of the finest in the Briançon area. Inside is a 17th century altar piece depicting the Virgin with child.

What to see
At La Salle les Alpes :
Museum "My village in the old days" ("Autrefois mon village"), no admittance charg).
Saint-Marcellin church.
Chapels of Saint-Barthélémy, St Jean Baptiste, Ste Luce.
St Jacques Oratory. Sundials.
At Le Monetier-les-Bains (1500 m): the museum of sacred art (musée d'art sacré).
Fortifications in the Briançon area.
Old graphite mines.
Guided tours (discovery of sundials, Chapels, Churches, etc.).
Serre Chevalier 1400
Museum of Sacred Art : Collection of polychrome statues and liturgical ornaments.
Serre chevalier 1500.
Leisure activities
Winter:
All types of skiing, snowboarding, Kite surf, snowpark, ski joering, cross-country skiing, snow shoes.
Ice rink, driving on ice, snow scooter.
Summer:
Mountain hikes in the Ecrins National Park le parc National des Écrins
(very numerous GR footpaths and other paths).
Horse-riding (horse-riding centres).
Mountain-biking (waymarked circuits). Karts and quads.
razy golf. Paint ball. Archery.
Adventure park, rafting, paragliding, tennis,
trampoline, grass scooter.
Climbing (via ferrata).
Horse-drawn carriages, kite surf.
Rollerblade and skateboard areas.
Man-made lake and 3 swimming pools.
Fishing in the river and lake..
Rafting, canyoning,
Air boat. Kayak. Hydro speed...
France-Italy Twinning Festival (in December).
Dinner-theatre festival (in February).
Organ festival (in summer).
Book and Image festival (early August).
Music Month (in March).
Sound and Light show (in summer).
Accomodations
Holiday rentals.
A parking area for motor homes at Villeneuve.
Holiday centres at Villeneuve, Chantemerle,
Le Monetier Les Bains, La Salle les Alpes.
Numerous bed & breakfast and tables d'hotes at Villeneuve, Saint Chaffrey, Villard Late,
Chantemerle, Les Boussardes, La Salle.
Numerous Gites atLe Monetier Les Bains, Chantemerle, Le Casset.
Numerous Hotels atCol du Lautaret, Villeneuve, Le Monetier Les Bains,
Chantemerle, Villeneuve, Pont de l' Alp, Hameau de Frejus-Villeneuve, Le Lauzet,
Villard Late-Chantemerle, Le Bez Villeneuve,.
A family holiday centre at Le Monetier Les Bains.
A Refuge.
Tourist residences at Le Monetier Les Bains, Chantemerle,Le Bez-La Salle Les Alpes, Villeneuve.
Holiday village at Villeneuve, Saint Chaffrey, Chantemerle.
NEIGHBOURING TOWNS AND VILLAGES
Villar d'Arène (à 20km de Le Monetier-les-Bains) and Briançon (5km from Chantemerle).