Saint Bonnet en Champsaur
17km North of Gap via the N85 road (Route Napoléon).
Discover the gorgeous village of Saint Bonnet en Champsaur
Population : 1,466 inh. - Altitude : 1,028 m.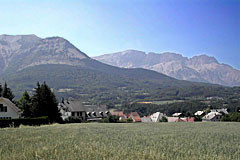 Historically, St Bonnet en Champsaur is the capital of the Champsaur valley.
With its 60 shops and artisans, it is a large village lying on a superb high altitude plain, where corn, fir trees and poplars grow.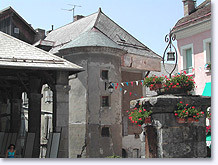 It is a stopover on the Napoleon Road, between Dauphiné and Provence, at the borders of the Ecrins National Park, and is one of the few medieval villages in the French Alps.
It could easily be counted as one of the most beautiful villages in the Alps, or even in France.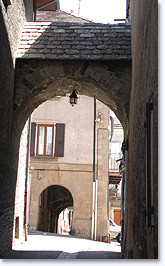 If you like architectural heritage you'll doubtless spend several hours visiting its 16th century district: Place aux Herbes and Place de la Tour with its great hall, covered passageways and fountains, labyrinthine shady alleyways, flat tile roofs that are beautiful to look at, ancient solid walnut doors, old wrought iron signs, etc...
In a typical house in St Bonnet en Champsaur, the ground floor is given over to a shop or stables, the first floor is the dwelling area, and the top floor is used as a barn.
You'll notice the stones placed along the frontages, called "buttarodes" which used to prevent the wheels of carts from damaging the buildings. Similarly, "annelles" are rings that were once used to tether horses.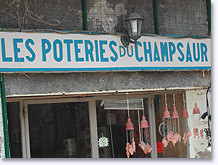 As you admire the superb Place aux Herbes square with its arcades (known as "tounes"), giving off a bewitching atmosphere, you should know that these arcades were once used to groom horses during rainy weather, as shown by the metal rings set into the walls.
As for Place Grenette, it was used for the grain market. The hall dates from 1843, and housed the market and the hay carts.
The old tower dates back to the 16th century, as does the imposing well, which for a long time was the village's only source of drinking water. Water was drawn up using a rope until the late 19th century !
What to see
Pétètes chapel (by appointment).
The old quarter.
Rural Museum of Pisançon.
Lesdiguières Château.
Abandoned villages in the Molines valley.
Leisure activities
Hiking. Mountain biking.
Accomodations
Hotels.
Campsite.