Châteauroux les Alpes
7 km from Embrun via the RN94 road.
Discover the village of Châteauroux les Alpes
Population : 942 inh. - Altitude : 983 m.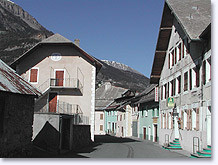 Although the hamlet of Saint Marcellin, where the village was originally located, still has a square tower castle which may have been the archbishop's residence, Châteauroux les Alpes, which was once the largest rural property belonging to the Embrun family is today no more than a large village whose grey rather austere houses stand on a slope overlooking the Durance.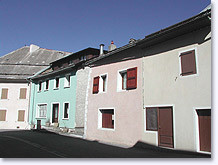 Châteauroux les Alpes benefits from being one of the points of entry to the Ecrins National Park, and also offers a great site for white water sports with the famous Rabioux wave, formed where the torrent meets the Durance.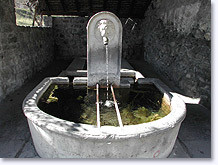 Moreover, the Rabioux valley is a site not to be missed, for its Cascade de la Pisse waterfall, bringing a touch of coolness in an impressive, rather oppressive landscape dominated by the cliffs of La Gueste.
Also worth a mention are the Demoiselles Coiffées, a series of rock formations ressembling fairy chimney stacks, several thousand years old, formed by the erosive action of rainwater on sloping argilaceous terrain.
What to see
The Cascade de la Pisse waterfall in Rabioux valley (1,450 m).
The Demoiselles Coiffées rock formations.
Saint-Marcellin church (in the hamlet of Saint-Marcellin, for its Romanesque-Lombard belltower).
Ruins of Sainte-Croix Abbey (on the banks of the Bramafan).
"Muséoscope" du Lac (à Rousset)
Leisure activities
Hiking: lhe Roc Blanc (2897 m) and Montagne de la Dent, in the Ecrins National Park.
Mountain-biking (Saint-Alban loop).
White water sports (Rafting etc)..
Via Ferrata.
Skiing (resorts at Vars and Risoul).
Bed and breakfast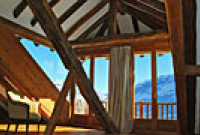 4 charming guest rooms in an ecological quiet house with wonderful views of the mountains. Wellness center energy massages. Breakfasts gluten free, organic dinner with local products.
Campings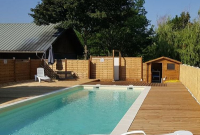 Camping New Rabioux has more to offer than just an ordinary pied-à-terre thanks to its quality services and facilities. These include barbecue hire, laundry facilities, a range of TV channels and Wi-Fi access, as well as a bread depot, book lending service and board game lending service. A grocery/snack shop and catering facilities (bar and snack bar) are on site, so you won't have to go far to get something to eat.
114

/

Accomodations
Hotels.
Bed and breakfast.
Holiday rentals. Gites.
Campsites.