Sahune
16 km from Nyons via the D94 road.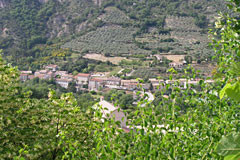 Sheltered from the northern winds by the Devès hills and the mountain of Angèle (1606 metres), this area of low and medium-sized mountains enjoys an exceptional climate, maximum sunshine and cool nights even at the height of summer.
Although today's village, on the banks of the river Eygues, and traversed by the road is modest and humble, you must take the tiny road that climbs up the hillside to the old ruined village overlooking the valley, its vineyards, fields of lavender and cherry trees.
You won't regret making the effort, because this abandoned site conveys particularly vivid impressions of a distant past: a precariously perched church of which all that remains is the bell-tower, a few stretches of half-collapsed walls buried under vegetation, and a window opening into emptiness...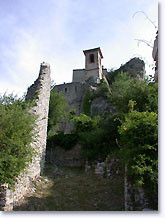 Not far away, hidden under fragrant lime trees are some old Provençal farmhouses... and a little higher up, where the road ends, is the castle, or what's left of it, protected behind its high portal - converted into a rural gîte.
What a great idea to rent this gîte for a few days, to take the time to lose yourself in the footpaths and stairways concealed under the weeds, to wander through these ruins dreaming of bygone days, when the castle was a medieval fortress, owned by the Ancezune family in the 13th century, and dismantled a few centuries later by Richelieu.
From up there you will also have an uninterrupted view of the village in the valley, built in a semi-circle along the river, as well as the mountains that look down on it, where you can go for hikes, pony-trekking or mountain bike explorations, constantly enjoying the spectacular breathtaking view from Mont Ventoux to the Cévennes.
What to see
Old abandoned perched village.
Ruined castle.
Leisure activities
Nearby: in winter, downhill and cross-country skiing, winter walks.
In summer: hiking, pony-trekking, mountain biking.
Horse-riding. Tennis.
Fishing. Canoeing.
Hiking.
Climbing / Rock-climbing, mountaineering.
Aerial sports.
Accomodations
Holiday rentals.
Campsites.