Saint May
24 km from Nyons via the D94 road and then the D570.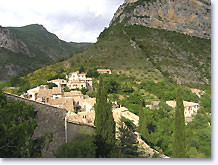 Once you've gone past the Saint May gorge, cross the little green bridge and take the tiny new road leading to the village of Saint May, clinging to its precarious location above the gorge and its grey-yellow rocks.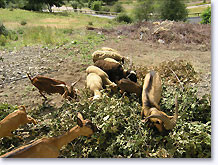 When you park in the "visiteurs" car park, you may perhaps be greeted by a herd of brown goats, bidding you a warm welcome to this land once owned by the Count of Provence.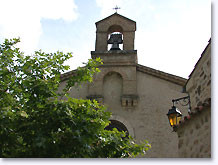 Today Saint May is still a marvellous perched village, overlooked by the ruins of Bodon abbey, that you can reach by climbing up a stairway.
It was founded in the 6th century, and now all that remains is a portico with a column, a few gothic windows and sculptures.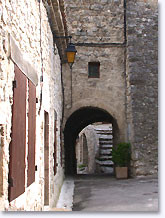 Huddling against a rock face, between cypresses and firs, the village is entirely built on steps, and still has a beautiful little church with a circular apse built from real stone, remains of defensive walls covered with climbing rose bushes, a few ruins exposed to the elements, dark vaulted passageways, a fountain and sundials...
The predominant building material here is an authentic grey stone, occasionally brightened with a pale green or blue shutter.
Who would not dream of living in Saint May, in a rustic house with an uninterrupted view of the valley and the Eygues river flowing down it !

What to see
Old picturesque village on a promontory.
Ruins of the abbey of Bodon founded in the 6th century (portico with columns, Gothic windows, sculptures).
Leisure activities
Hiking.