'; //-->
Saint Paul Trois Châteaux
Departement of the Drome - Provencal Drome - Pop.: 8,000 inh. - Altitude : 111 m.



10 km from Bollène, via the D994, D26 and D71.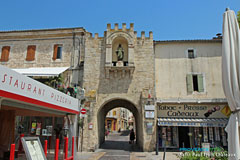 It is said that the tradition of lily of the valley being used as a lucky charm was invented in the 16th century at Saint-Paul-Trois-Châteaux.

Saint-Paul-Trois-Châteaux was once a fortified town and some fine remains of the defensive walls stand to this day, including a 14th century gateway.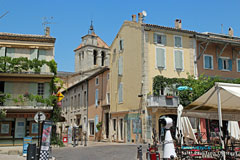 These days this large Provencal market town located in a plain of vineyards is known for its imposing cathedral, a magnificent example of Romanesque art.

This harmonious, elegant yet understated building stands in the heart of the historic quarter, where it is most pleasant to stroll the peaceful cobbled streets.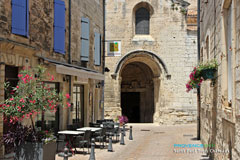 As you walk along, you can admire here and there the Renaissance façades, old store signs faded by time, a few stretches of old stone walls, and roofed fountains.

To end your visit, why not make a stop at the Maison de la Truffe to enjoy some truffles ?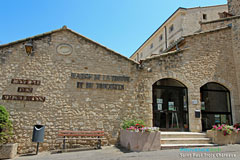 Do not look for the "Three Castles" in the city, there are at Grignan, Suze-la-Rousse and La Garde-Adhémar.







What to see:
Cathedral (12th century historical monument, 13th century frescoes and mosaics, 17th century former high altar and organ case).
St-Just chapel.
Protohistoric rock engraving (solar symbol).
Many Roman remains.
Former Hôtel de Castellane (façade and chamber of justice, 17th-18th century).
Maison de la Truffe et du Tricastin.


Leisure activities:
Equestrian centres,.
Hiking, mountain biking and cycle touring.
Climbing, nautical sports, quad, golf.
Tourist trails and Wine trail.
Cave-dwellers' village at Barry.


Holiday rentals
Saint Paul Trois Châteaux
(Drôme Provençale)
- Bollène : 9km


Accommodation:
Hotels.
Bed and breakfast.
Holiday rentals.


Neighbouring towns and villages:
La Garde-Adhémar (7km), Suze-la-Rousse (10km) and Pierrelatte (10km).