Montélimar
Access via the RN7 or the A7 motorway (80km north of Avignon).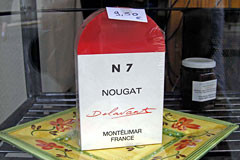 If you're looking to park in Montélimar, the "Allées provençales" laid out in 1995 are the best place, with their numerous shaded car parks.
Now you're all set to start exploring the town, starting with a stroll through the vast public garden planted with centuries old trees. Then walk along one of the pedestrian streets taking you to the market square, previously the wheat square and now brimming with the smells of Provence.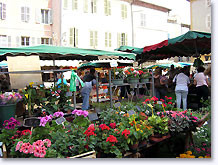 Especially on a Saturday, with its market stalls of local produce, olive oils and goat's cheese, fabrics and pottery, not forgetting the famous local delicacy, the inevitable nougat of Montélimar.
In addition the whole of Montélimar's historic centre is pedestrian, making it very pleasant with its long streets lined with all kinds of shops.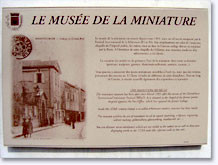 If you explorations take you to Place de l'Europe, you should visit the Musée de la Miniature (museum of miniatures).
This museum opened in March 1995 in the chapel of the old hospital, and presents more than 300 miniatures from all over the world. There are scenes of daily life at a scale of 1/12, Russian micro-miniatures invisible to the naked eye and other record-breaking miniatures.
Cribs from Ecuador made from bread, an origami version of Noah's Ark, a water-colour painted on a grain of rice 7 millimetres long...
Unbelievable marvels from Europe, the Americas and Asia.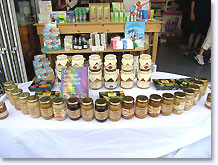 To end your walking tour take a look at the Porte St Martin (1763), a perfect example of the old town gates that were used when the town was still enclosed by its walls, before returning to the car park at "Les Allées Provençales".
But Montélimar has not yet divulged all its secrets to you. Keep some strength back to climb the hill up to the castle (you can also drive up if you prefer). You won't be disappointed...
Montélimar was a stronghold of the Monteil Adhémar family in the 12th century (hence the town's name), and still boasts a castle built by them, perched on the hill in a large park, which can be reached on foot or by car, and which is definitely worth visiting.
The Adhémar castle constitutes one of the most important examples of medieval architecture in this part of the Rhône Valley, and is also a rare example of a residential palace built in the Romanesque period.
In the 16th century it was a fortified citadel, was used as a prison until 1926, and in 1965 was purchased by the departmental council, who restored and converted it into an exhibition centre.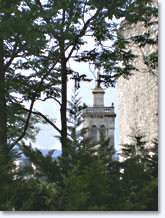 After hosting several major modern art exhibitions (Miro, Braque, Chagall, Masson), the Adhémar castle now houses a contemporary art centre with an ambitious programme :
Five exhibitions every year, including one of international renown during the summer season.
Finally, did you know that one of Montélimar's mayors subsequently became president of the French Republic? It was right at the start of the 20th century, and his name was Émile Loubet.
What to see
Adhémar Castle (Historic Monument, 11th-16th century),
Its chapel (11th century) and Contemporary Arts centre.
Museum of miniatures.
Arnaud Soubeyran Nougat Museum.
Palace of Sweets and Nougat.
International Sweet Factory Museum.
European Museum of the Fighter Aircraft (US, Soviet, British, Italian and French jet fighters,
some of which are the only such aircraft in France and are in a state of airworthiness).
House of Diane de Poitiers.
Sainte-Croix collegial church.
Porte Saint-Martin.
Leisure activities
Canoë-kayak on the Drôme river or in the Ardèche Gorges.
Golf course on the Valdaine estate..
Aquatic centre. Nautical and leisure activities centre.
Hiking. Bicross track.
Mini golf. Karting track.
Local delicacies: Gerbe d'or - Black nougat, nougatine, chocolate and calissons.
Accomodations