'; //-->
Venterol
Departement of the Drome - Provencal Drome - Pop.: 800 inh. - Altitude : 410 m.

6 km from Nyons via the D538.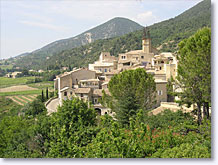 Sitting on a low hill, above its vineyards, from a distance the small village of Venterol is a harmonious blend of ochre and beige.

Its old stone houses huddle around an unusual campanile bell-tower, that has an external stairway. The Romanesque style church dedicated to Sainte Perpétue dates from the 16th century and the campanile from the 17th century.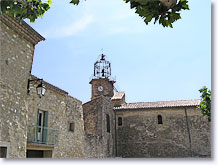 It stands proudly on the little village square, where it is certainly the centre of attention

The rest of the village is also well worth a stroll along its shady streets winding around the church, to admire its secret gardens protected by dry-stone walls, virginia creeper arbours, old doors and vaulted covered passageways...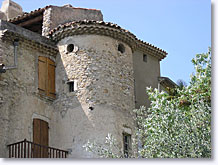 A most pleasant time can be had enjoying the tranquillity of these quiet streets leading up and down brightened by pale blue and green shutters, responding to the greetings from the local inhabitants as they sit on their doorsteps,or cultivate their gardens full of cherry trees, cypresses and olive trees...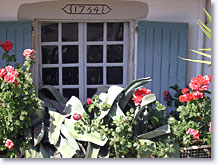 Of course we must not forget the pride of Venterol: the local vines that produce a delicious AOC "Côtes du Rhône", wine which you must try before you leave!





What to see:
Romanesque style church.
Chapel of Sainte-Perpetue.
Ruins of Château Ratier.


Leisure activities:
Walking, cycling and mountain biking.
Horse riding.
Gliding and paragliding.
Climbing, Canyoning.
Tennis. Petanque.


Accommodation:
Gites. Holiday rentals.


Neighbouring towns and villages:
Rousset les Vignes (5km) and Nyons (6km).