Discover the wines of Côtes du Rhône
Situated in the southern Vaucluse between Avignon and Bollène, the "Côtes du Rhône" appellation includes amongst its vineyards several great wines which have contributed to its international reputation: Châteauneuf du Pape, Gigondas and Vacqueyras.

Several kilometres from Orange, the "Côtes du Rhône Villages" also contribute to the prestige of the region's wines with vineyards in the districts of Rasteau ,Cairanne ,Séguret, Beaumes de Venise, Roaix, ou Valréas.

Concentrated mainly on reds, with a small quantity of rosés, this wine which is known for its delicate fruity aroma, can either be aged or consumed while relatively young. It is one of the most famous of the region.
WINE ESTATES AND CASTLES TO VISIT WITH PRE-BOOKING
Vignobles Mayard covers 43 hectares of the Chateauneuf-du-Pape appellation. The Mayard family is strongly committed to sustainable agriculture, allowing the terroir to express itself fully. Enjoy a unique experience by visiting their cellars and wineries, and discovering their full range of wines through an informative tasting session. Find out more and book online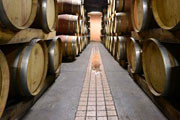 Domaine de la Janasse is a family estate run by the Sabon family. The estate showcases the region's many terroirs through complex blends. Discover their winemaking methods and the quality of their wines through a free tour and tasting. Find out more and book online
WINE ESTATES AND CASTLES TO VISIT
Château de Vaudieu - Châteauneuf du Pape
18th century residence, beautiful ancient cellar.
Guided tour in English on request.

Château des Fines Roches - Chateauneuf du Pape
Nowadays an hôtel **** and gastronomic restaurant, this huge chateau built at the beginning of the century with "machicolation" towers was the meeting-place for the two famous Provencal writers, Daudet et Mistral.
Guided tour in English, wine-tasting.

Château La Nerthe - Châteauneuf du Pape
Dating from the 18th century, this superb residence houses several immense vaulted cellars from the 16th and 17th century.
Guided tours of the cellars in English or German on request.

Château La Croix-Chabrières. - Bollène
Construit en 1850, belle galerie de tableaux anciens, écuries Napoléon III. L'été le château expose des instruments à vent, l'hiver des journées "Truffes" sont organisées.
Visite sur demande. Dégustation dans le grand hall du château.

La Chartreuse de Bonpas - Caumont sur Durance
Napoleon III stable. During summer, the chateau displays its "instruments à vent", during winter "Truffle Days" are organised.
Visit on request. Wine-tasting in the reception hall of the chateau.

Château Raspail - Gigondas
Built in 1866 with sculptured facade complete with medallions and beautiful frescos.
Guided tours in English on request, wine-tasting in the cellar.

Domaine Saint-Cosme - Gigondas
Situated in a beautiful park and built in 1868, the chateau has a permanent display of paintings and a collection of vine-yard tools in its 15th century cellars.
Guided tours in English and Spanish.

Château de Ruth - Sainte Cécile les Vignes
Very ancient property, dating back to 1592, rebought in 1920 by the son-in-law of the Tsar Nicolas the first.
PROPERTIES AND WINE COOPERATIVES AOC "CÔTES DU RHÔNE"
Apt (2 properties, 1 winery)
Aubignan (1 property)
Avignon (1winery)
Bedarrides (4 properties)
Beaumes de Venise (6 properties, 1 winery)
Cairanne (15 properties, 1 winery)
Caumont sur Durance (2 properties)
Bollène (1 property)
Camaret sur Aigues (4 properties)
Chateauneuf de Gadagne (4 properties, 1 winery)
Chateauneuf du Pape (55 properties)
Courthezon (13 properties)
Gigondas (24 properties, 1 winery)
Jonquières (3 properties)
Lafare (1 property)
Mondragon (4 properties)
Mornas (1 property)
Orange (17 properties)
Piolenc (2 properties)
Puymeras (2 properties, 1 winery)
Rasteau (13 properties, 1 winery)
Roaix (2 properties)
Richerenches (1 property)
Sablet (6 properties)
Saint Romain en Viennois (1 property)
Sainte Cécile les Vignes (5 properties, 1 winery)
Sarrians (4 properties)
Seguret (2 properties, 1 winery)
Serignan du Comtat (2 properties, 1 winery)
Sorgues (4 properties)
Suzette (2 properties)
Travaillan (2 properties)
Uchaux (3 properties)
Vacqueyras (14 properties, 1 winery)
Vaison la Romaine (4 properties, 1 winery)
Valréas (2 properties, 1 winery)
Vedene (2 properties)
Villedieu (2 properties, 1 winery)
Visan (4 properties)
Violes (13 properties)