Le Gapençais
Discovering the Gapençais region, around Gap
Between the Alpes de Haute-Provence and the Alpes du Nord, in the centre of the Hautes Alpes département, the "Gapençais - Val Durance" is a huge green basin, still farmed, well watered by the Gap canal and the Durance canal.
History buffs can take the Route Napoléon, in the footsteps of the Emperor, and gourmets can follow the "Route des Fruits et des Vins" ("fruit and wine road")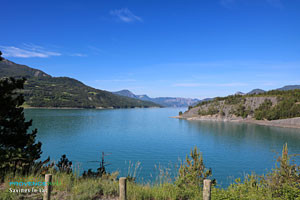 The valley has a rich heritage, including the medieval Château de Tallard, which is still in very good condition and can be visited, but it is above all the beauty of nature and the efforts made by man to tame it that will capture your attention.
From the dam on the Serre-Ponçon lake, a 125-metre-high feat of engineering, to the Col Bayard lookout (1248 m), with its uninterrupted view over the town of Gap, or, in Lardier-et-Valença, the panorama from the church of Saint-Pierre (826 m), embracing the wide valley of the Durance, via the natural curiosities represented by the "ballroom of the coiffed ladies" in Théus.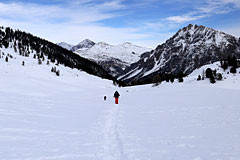 Brave cross-country skiers will find plenty of opportunities to perfect their skating technique, whether on the Col des Guérins (30km of trails) or the Plateau de Bayard (40km).
NEIGHBOURING TOWNS AND VILLAGES
Tallard (15km).