'; //-->
Montmaur
Departement of the Hautes Alpes - Population : 423 inh. - Altitude : 880 m.



21 km West of Gap via the D994 and the D937A.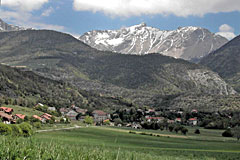 The hamlet of Montmaur is located on a site inhabited since Roman times, and from the 14th century was overlooked by a watchtower, of which only ruins now remain.

But the main point of interest in this little village lying on a vast plain is without doubt the château, a fine imposing residence flanked by two round towers, which can be seen from a long way away.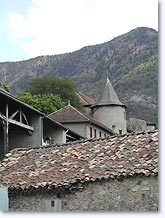 History lovers will be interested to learn that in the 13th century it was the stronghold of the powerful Barony of MontMaur, which was to remain in place until removed by the Revolution.

More recently Montmaur château was a stronghold of the resistance movement: During the second world war, Arno Klarsfeld (the father of Serge), a Rumanian Jew fleeing the enemy, stayed here, serving as cover for the Resistance network led by Antoine Mauduis and seconded by a certain... François Mitterand.

François Mitterand est venu plusieurs fois à Montmaur et avec le commandant Mauduit ont cherché à regrouper les mouvements prisonniers.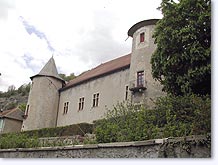 Montmaur Château was built in several periods (from the 14th to the 17th centuries) and to this day has 17th century bossed doors, mullion windows, French-style larch wood ceilings, monumental fireplaces, as well as some interesting 15th century painted decors.





What to see:
Montmaur Château (14th-17th century).
Sainte-Philomène's Chapel, on the plain of Montmaur. (included in the inventory of historical monuments).
Parish church of Saint-Pierre (12th-14th centuries).


Leisure activities:
Hiking. Mountain biking.


Accommodation:
Bed and breakfast.
Campsite.