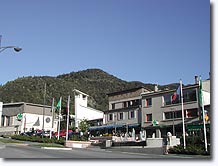 Savines le Lac is located at the gateway to the Écrins National Park, and surrounded by tall peaks (the needles of Chabrières and Mont Guillaume). It certainly deserves its title of "green holiday resort".
The village was rebuilt in the 60's, as the former village of Savines had been flooded due to the creation of Serre-Ponçon lake.
Savines le Lac is a very clean, pleasant spot, situated on the lakeside, facing due south (300 days of sun a year).
There are several piers here catering for the numerous water sports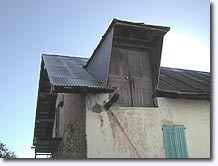 available on Serre-Ponçon lake, including all the shops you need, numerous café terraces offering a view of the lake, well kept lawns, a pretty town square with a fountain, where you will have a magnificent view of the fine very "sixties" looking white church !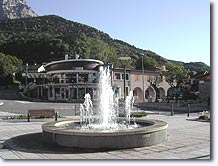 On market day at Savines Le Lac you can fill your shopping bag with lavender or pine flavoured honey, a vast choice of seasonal vegetables, mountain-style locally made cooked pork meats, Provencal fabrics, pottery and wooden toys crafted by local workers, etc…