Embrun
40 km from Gap by the N94 road.
Embrun, a small town blessed by the Gods
Population : 6,227 inh. - Altitude : 871 m.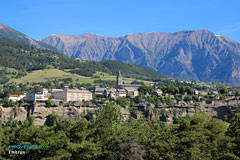 From afar, Embrun seems to be a fortress enthroned on its rock.
In Roman times Embrun was the capital of the Maritime Alps in the Middle Ages it was an ecclesiastical centre, and in the 17th century it was indeed fortified by Vauban although it already benefitted from natural protection perched on its rocky platform.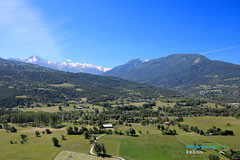 Overlooking the Durance plain and the area of water at the end of Serre-Poncon Lake, is also privileged in that it is but a stone's throw from the high mountains of the Ecrins and fifteen minutes car journey from several ski resorts.
Embrun is known as the "Nice of the Alps" because of its gentle climate, and will doubtless impress you with its glorious history.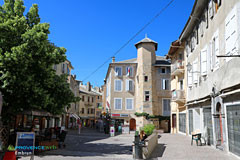 It's a small town blessed by the gods, deserving at least a whole day of exploration, through the maze of pedestrian streets and alleys in the old town, and cheerful, colourful house fronts decorated with pastel or brighter tints. Admire the superb sculpted door to a building many centuries old, a turret, or an old fountain in a shady square.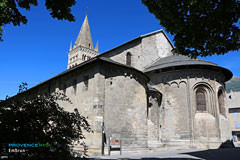 In the heart of the old town you'll be lost in admiration when you see Embrun cathedral. Notre Dame du Réal is a listed historical monument, a marvel of gothic art, combining Italian and Lombardic traditions.
It is the largest religious monument in the French Alps, and will impress you with its monumental dimensions, its rose window, and its stylized sculpted lions supporting the pillars.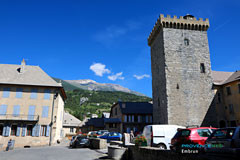 Nearby stands the Brown Tower (La Tour Brune), which was built in the 13th century.
It is still in excellent condition, and you'll shiver when you learn that it was once used as a prison..
Further on, Maison des Chanonges is a superb Romanesque edifice with beautiful sculpted patterns on the façade.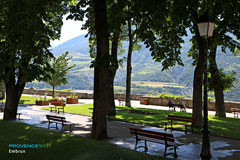 Finally, take a breather in the gardens of the Archbishop's palace (Archevêché), behind the cathedral. As you lean over the high wall that protected the town against invaders, you can take in the whole of the Durance valley, its market gardens and high mountains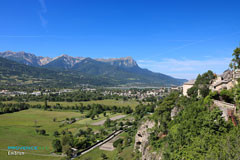 From up here, maybe you'll start dreaming about the history of Embrun and all the people who lived here: the counts of Provence and the Royal heirs, as well as humble pilgrims on their way to the Holy Land, or in Embrun to ask Our Lady of Réal for a miracle !
What to see
Col de Vars (2,108 m).
The Natural Reserve of Val d'Escrein: from Guillestre, take the D902 heading for Col de Varss
Just before St Marcellin, take a little road on your left signposted to the reserve (car park charge)
Leisure activities
Skiing in one of the nearby ski resorts Les Orres, Risoul-Vars, Réallon, Crévoux.
Ski touring, Snow shoeing. Mountaineering.
White water sports : rafting, canoraft, kayakraft, canyoning.
Nautical sports on the lake : windsurfing, catamaran, rowing, canoe..
Leisure activities also:
Beaches, tennis, mini-golf, basketball and volleyball pitches, boules pitch sports traillages, tennis, mini-golf, terrains de basket et volley, pétanque parcours sportif …
Climbing (Via-ferrata) Paragliding.
Hiking:
Lac de l'Hivernet 2,352m, le Mont Guillaume (2,550m) VTT (580 km of waymarked routes in the region)
Exhibition about Embrun's past : Le Passé de l'Embrunais, Place de l'Archevêché
(open all year in the afternoon except Sundays and bank holidays).
Market (every Saturday and Wednesday morning)
Accomodations
Hotels.
Bed and breakfast.
Holiday rentals. Gites. Furnished accommodation.
Campsites.