'; //-->
Les Orres
Departement of the Hautes Alpes - Population : 446 inh. - Altitude : 1,300 m.



13 South of Embrun via the D9, D40 and then the D540.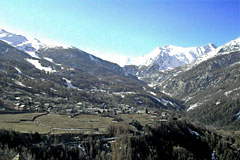 "Ever since Antiquity our beautiful lands on the sunny south-facing slopes have been much admired ".

It's true that the little authentic village of Les Orres is situated on the south-facing slopes of the Méale mountain (2,426 m).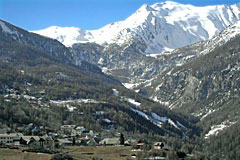 On the north-facing slopes, a few kilometres away, the winter sports resort of the same name launched in the 1970's lies at the foot of two peaks - Pic de Boussolenc (2832 m) and Aupillon (2916 m) - which form a "frontier" between the Embrun area and the Ubaye.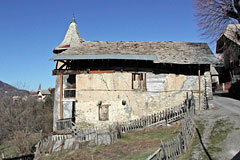 Derived from the Latin word "horreum" meaning a granary, Les Orres consists of robust houses built from stone and larch wood.

In the streets you'll come across some old farmers who don't talk much and some chickens. Breathe in the good smells of wood fires, and let your ears be charmed by the gurgling of tiny fountains.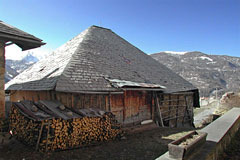 You may also notice some typical old barns, with very low eaves, and some stacks of firewood awaiting the first period of cold weather.

Les Orres is a humble mountain village, but it does have one noteworthy historical monument, the church of Sainte Marie Madeleine, erected in the early 16th century, with a Romanesque-Lombardic belltower.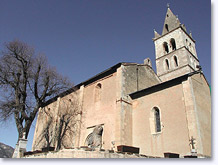 It is still superb and imposing, built using a fine yellow stone. Its great door is framed by three small columns with geometrically shaped capitals, and it also has a wooden door beautifully sculpted with gothic tracery, once protected by a stone archway supported by crouched lions, one of which is still visible on the terrace wall.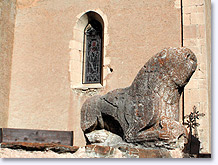 It is said that the small owl ("chouette" in French) sculpted into the wall on the right-hand side of the archway may represent an oblique reference to the name of the building's architect (perhaps Chouet or Chovet).

Les Orres looks its best when seen from above from the terrace in front of the church; its mauve lauze roofs shine in the sun !




What to see:
Church of Sainte Marie Madeleine (16th century, listed building, contact the mairie for visits).
Church of Notre-Dame de la Présentation (19th century) at the hamlet of Le Mélézet.
Le Grand Vallon (1,772 m): mountain stream, meadows, forests and sheer walls form a wonderful landscape.
Close by (at Baratier, 9 km): church of Saint Chaffrey, 15th century, with its Romanesque door,
sculptures of human heads on the capitals, and Chapel of the Lords of Baratier, with their coat of arms, a greyhound
(open every day: for more information,contact the mairie at Baratier).


Leisure activities:
Hiking (e.g. around Sainte-Marguerite lake).
Mountain-biking (descent from Les Orres to Les Coqs).
Climbing.
And of course skiing at the Les Orres resort: skiing area (altitude of 1,280 m), with 63 km of marked runs suitable
for all levels, 24 ski lifts. 40 km of cross-country skiing routes.
Snowpark.
Snow scooters, snow quad circuit, toboggan run, ski joering, ice waterfall climbing.
Off-piste skiing New Gliss space : Freeride (bumps, canyons).
Freestyle (tables, high turns) and Show/demo (big air, pipe).


Accommodation:
Hotels dont 3 Ó la station de Merlette.
2 villages-vacances Ó Merlette.
Tourist residences. Furnished rentals.
Gites.


Neighbouring towns and villages:
Embrun (13km).