Pontis
Population : 50 inhabitants
Discover the hamlet of Pontis near the Serre-Ponçon lake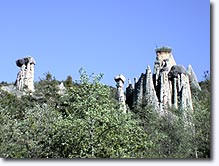 The very small village of Pontis spreads out on a gentle slope above the Serre-Ponçon lake.
Traces of its past are present in a restored fortified château and a former one-roomed school that has been converted into a theme-based museum: "Reading, writing, 'rithmetic... Forming Men".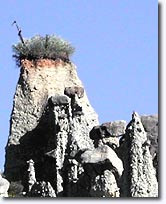 But the main tourist attraction in Pontis is surely the famous "Demoiselles coiffées", earth pillars (in reality ice-age moraines), that have been sculpted by thousands of years of erosion which the imagination is willing to interpret as ladies with large hats!
You can admire them up close via a path that has been laid out for the purpose, and there are information panels that explain the origin of this astonishing geological phenomenon. On site (beside the D954) you will find a souvenir shop and a snack bar offering a mysterious "shepherd's meal".
What to see
The Valley Museum (a former one-roomed school).
Église du 19ème siècle siècle, cadran solaire.
Les Demoiselles Coiffées (earth pillars).
Close by : a wildlife park, (foxes, badgers, fallow deer, baby-marmots and birds of prey in flight).
Leisure activities
On Serre-Ponçon lake: boat trips, fishing, swimming, water skiing, windsurfing, sailing dinghies, beaches, etc.
Bicycle touring. Hiking (Le Morgonnet, Chemin du Tour du Lac).
Accomodations
Holiday rentals.
Campsites.